In Part 1, we featured 10 favorite Japanese live action films, in Part 2, we'll celebrate our top 10 favorites.
– – –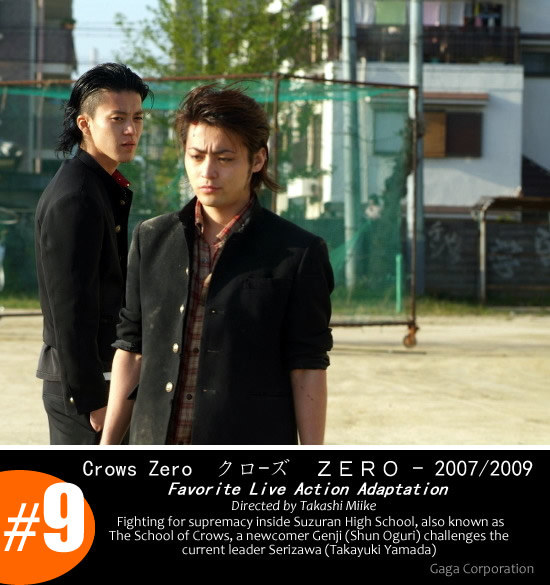 – – –
Hana Yori Dango and Crows Zero are like staple live action Japanese movie recommendations. Both represent beloved genres – the romantic side of youth and its violent, thrilling opposite. With Shun Oguri featured prominently in both series (and movies), he represented quite a few famous manga/anime characters throughout his acting career. Mao Inoue, who is considered one of Japan's most talented actresses, has made quite a lasting impression in Hana Yori Dango, not to mention her reportedly romantic relationship with her co-star, Jun Matsumoto.
Both HYD and Crows also feature personalities going against the 'establishment', with Genji (Shun Oguri) fighting to take on the gang in Suzuran High, while Makino (Mao Inoue) fighting for her right to co-exist inside the posh, prestigious escalator school Eitoku Gakuen. Genji's struggle to become the #1 boy in the ultra-violent school is more than a coming of age tale since it depicts friendships, loyalty, and even family issues. On the other hand, Makino brings to focus class struggle and the arrogance of the elite. The romance between Makino and Domyouji (Matsumoto) provided more than just excitement and thrills for fans of both actors. The chemistry between them remained unmatched by subsequent adaptations.
– – –
The famous plot of amnesia which is often 'exploited' for dramatic, tragic and romantic effects is once again, used in Hana and Alice. But because of the quality of the leads' performances and writer-filmmaker Shunji Iwai's vision, Hana and Alice stands out among romantic live action adaptations.
Here we have 2 best friends with opposing personalities – Hana (Anne Suzuki) is reserved and is always on the look out for Alice, in case she gets in trouble. Alice (Yu Aoi) can be quite reckless, acting on a whim. When they saw Masashi Miyamoto (Tomohiro Kaku) on their way to school, both their lives drastically changed.
While the romantic side of the movie is quite intense, the individual struggles of both Hana and Alice take precedent and are actually the highlights of the film. Hana's initial sense of "hesitation" towards getting what she wants is her way of maturing, while Alice and her love of dancing (ballet) take her towards realizing her goal. In the end, while they have separate, individual goals, their friendship remains valuable and irreplaceable.
– – –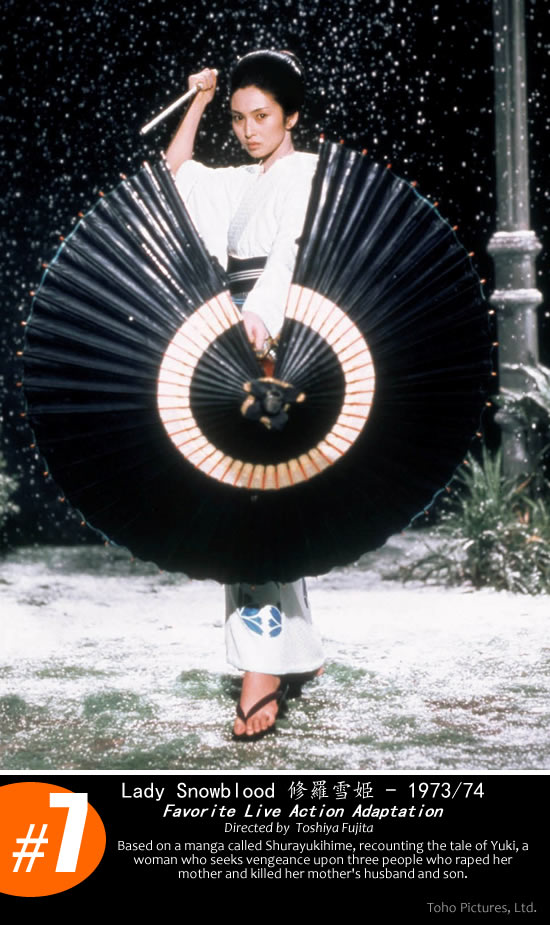 Revenge is a bitch, and can take the viewers to the extremes!
Marc Walkow @Film Comment made some interesting commentaries about Lady Snowblood:
Many titles in the pantheon of cult cinema have been touted as favorites of exploitation film connoisseur Quentin Tarantino, with varying degrees of veracity. In the case of Toshiya Fujita's Lady Snowblood swordplay revenge films, I can tell you there's no doubt about it, and not just because of his well-documented borrowings in Kill Bill Vol. 1. Ten years ago, during a midnight screening at the Sitges Film Festival in Spain, I sat behind Tarantino as he live-narrated the plot of Lady Snowblood (73) to a friend sitting next to him. It was a Japanese-language print with German subtitles, but he spoke with total familiarity and great enthusiasm. (I didn't even mind the distraction since I was doing the same thing for a friend sitting next to me.) [ source ]
Synopsis from the Criterion Collection: A young woman (Meiko Kaji), trained from childhood as an assassin and hell-bent on revenge for the murders of her father and brother and the rape of her mother, hacks and slashes her way to gory satisfaction in turn-of-the-twentieth-century Japan. Rampant with inventive violence and spectacularly choreographed swordplay, Toshiya Fujita's pair of influential cult classics Lady Snowblood and Lady Snowblood: Love Song of Vengeance are bloody, beautiful extravaganzas composed of one elegant widescreen composition after another.
If you are just starting to enjoy Japanese films, I'm inviting you to take a major leap and watch the 2 Lady Snowblood movies. While it may appear to be ultra-violent, you can discover a lot of things that made Japanese movies of yesteryears the subject of discussions among film fans.
Meiko Kaji, the lead star of Lady Snowblood, also played the main character in Female Convict 701: Scorpion series. and was reported to have been invited to play roles in Hollywood, however, she declined since she believed that "she could not give a good performance in a language other than Japanese".
– – –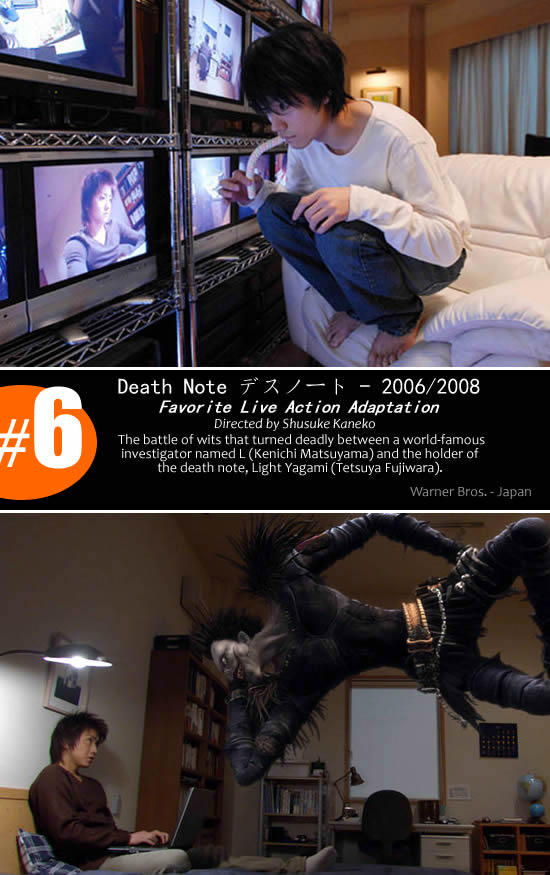 How can anyone resist the "beautiful" and cruel idea of killing people just by the mere writing of their names?
The story follows Light Yagami, a high school student who discovers a supernatural notebook from a Shinigami named Ryuk that grants its user the ability to kill anyone whose name and face he knows. The series centers around Light's attempts to create and rule a world "cleansed of evil" as "God" using the notebook and the efforts of a detective known as L to stop him.
Based on the best-selling supernatural action mystery manga written by Tsugumi Ohba and illustrated by Takeshi Obata, Death Notre has spawned 4 Japanese movies and a Hollywood remake, plus a TV series. It also catapulted the acting careers of Kenichi Matsuyama, Tatsuya Fujiwara, Kento Yamazaki and Masataka Kubota to greater heights.
– – –
A live action movie about manga artists sounded a little bit too much, but then again why not adapt a manga about the inner workings of the artists themselves?
Moritaka Mashiro (Takeru Satoh) doesn't want to follow the career path of his uncle who worked as a manga artist but ultimately died because of exhaustion. Moritaka Mashiro figures he will graduate from school and work at an office. Things change though when falls in love with a girl at school. The girl, who hopes to become a voice actress, tells Moritaka they can marry, but only after they both achieve their dreams. Moritaka then teams up with fellow classmate Akito Takagi (Ryunosuke Kamiki) to publish their first manga.
The trio of Takeru Satoh, Ryunosuke Kamiki, and Shota Sometani together in one movie is simply too hard to resist. The fact that they are playing some really interesting characters is just an "icing o the cake" since seeing them together on the big screen is already a gift to the viewers. We're watching the future of Japanese cinema here, ably represented by the country's leading dramatic actors.
– – –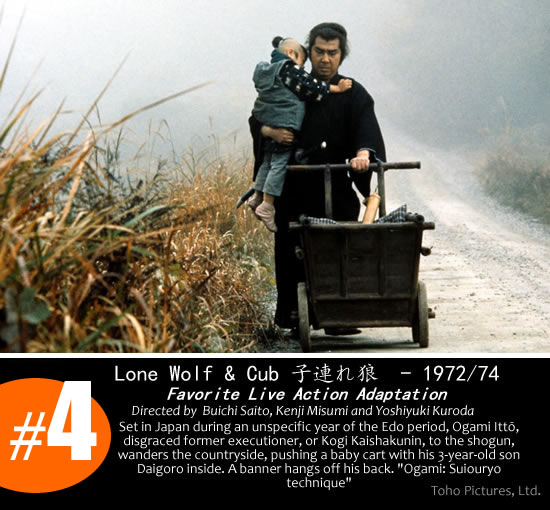 We're paying tribute to one of the earliest live action adaptation ever in Japan.
Lone Wolf and Cub ( 子連れ狼) is a manga created by writer Kazuo Koike and artist Goseki Kojima. First published in 1970, the story was adapted into six films starring Tomisaburo Wakayama, four plays, a television series starring Kinnosuke Yorozuya, and is widely recognized as an important and influential work.
Lone Wolf and Cub chronicles the story of Ogami Ittō, the Shogun's executioner who uses a dōtanuki battle sword. Disgraced by false accusations from the Yagyū clan, he is forced to take the path of the assassin. Along with his three-year-old son, Daigorō, they seek revenge on the Yagyū clan and are known as "Lone Wolf and Cub".
There are quite a number of brutal scenes, spiced with some really erotic ones. Definitely not for the "faint" hearted.
The exciting samurai battles are coupled with unique stories, making the six films worth collecting and watching from time to time.
– – –
One of my biggest regrets is not having to watch Pecoross' Mother and Her Days as soon as it was released outside Japan. I don't know… perhaps I'm too inclined to watch the 'usual fare' but this movie is just amazing. You can listen to the theme song here, and be warned: it is so sentimental and sweet, it will make you cry…
Laid-back baby boomer Yuichi (Ryo Iwamatsu) is a middle-aged manga artist and singer-songwriter when he isn't at his salaryman day job or watching out for his elderly mother. Suffering from increasing dementia since her husband's death, Mitsue (Harue Akagi) is a constant source of comic energy or annoyance for Yuichi, and he and his son must soon decide if they should put her in a home for the elderly. Jumping back in time, we see how Mitsue (played by Kiwako Harada) tracked the tumult of the latter half of the 20th century, being raised as one of 10 brothers and sisters, surviving the war, and having to push her alcoholic husband (Ryo Kase) along in life. Pecoross is directed by the oldest active film director in Japan, Azuma Morisaki, who creates an emotionally complex work that is only the more profound and life-affirming for its cartoonish portrayal.
The movie competed against The Great Passage and A Story of Yonosuke, two of my favorites, during Japan's award season and won its share of awards. BUT you simply have to give this film a go and watch it yourself.
– – –
The Kenshin trilogy is probably the top favorite of many of this site's regulars, so taking the #2 rank may not be too bad (after all)
The story begins during the 11th year of the Meiji period in Japan and follows a former assassin from the Bakumatsu, known as Hitokiri Battosai. After his work against the bakufu, Hitokiri Battosai disappears to become Himura Kenshin: a wandering samurai who protects the people of Japan with a vow of never to take another life. Watsuki wrote this series upon his desire of making a shōnen manga different from the other ones that were published at the time, with Kenshin being a former assassin and the story taking a more serious tone as it continued. The manga revolves around themes of atonement, peace, and romance.
If Haruma Miura boasts of Attack on Titan, Takeru Satoh has the Kenshin trilogy and in the grand scheme of things, Sato wins hands down. The fact that the trilogy also features Ryunosuke Kamiki, Yu Aoi, Yusuke Iseya, Tao Tsuchiya, Tatsuya Fujiwara and Emi Takei, means there's more to it than just adventures.
– – –
One of the most moving and dramatic movies I have ever seen. Sion Sono's Himizu features the unforgettable performances of Fumi Nikaido and Shota Sometani. The film competed in competition at the 68th Venice International Film Festival in September. At the festival, Shōta Sometani and Fumi Nikaido received the Marcello Mastroianni Award for Best New Young Actor and Actress for their work in the film.
Review from The Guardian follows:
Japanese poet-provocateur Sion Sono was adapting a popular manga – concerning a teenager's thwarted desire to live as peacefully as the humble himizu ("mole") – when the 2011 tsunami struck the Japanese mainland. Mobilizing a rapid-response film crew, he has captured not only staggering images that exemplify our tumbledown world but what may become one of the great themes of our time: how the young will bear the yoke of elders who've been wiped out – financially, geographically, emotionally – by recent events. Sono retains his go-for-the-throat approach, but the violence here somehow connects with the brutal economic conditions, and he fosters very tender, affecting performances from Shôta Sometani and Fumi Nikaidô as his crushed young lovers. [ source ]
The movie is not easy to watch, not because it's too violent or too graphic but because it's just hard to bear both youngsters' situation. While tragedy was depicted everywhere, there is always that "hope" even in the worst of circumstances… That positive message at the end of the movie really kicks in!
How about you? Any particular live action Japanese film you love so much? Let us know what you think!