Loneliness and human connection – two 'slice of life' features that Japanese movies are known for – make up most of our ten favorite Japanese productions for the year. Just to give you a rundown of previous numero uno lists – Himizu (2012), Tomogui (2013), The Light Shines Only There (2014), La La La at Rock Bottom (2015). However, I have to say Bakuman, which I was not able to watch in time, should have taken the top spot for last year. 
2016 serves as a banner year for a number of personal biased actors – Ryunosuke Kamiki, Kento Yamazaki, Yuya Yagira, Mugi Kadowaki, Mayu Matsuoka, Fumi Nikaido, Masaki Suda, and yes, Takeru Satoh. They came up with some of their best projects to date.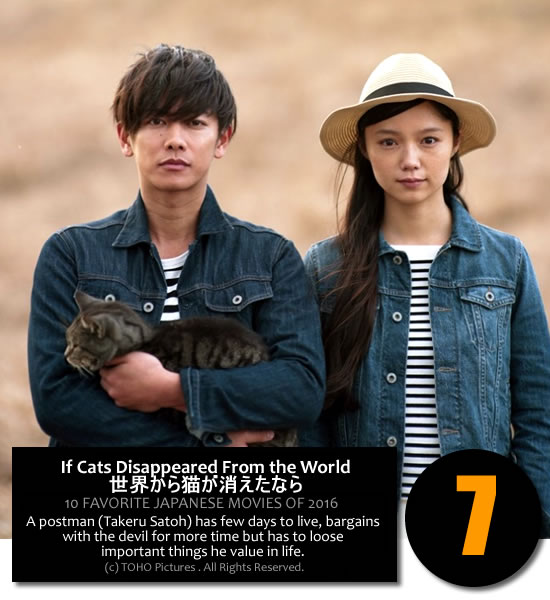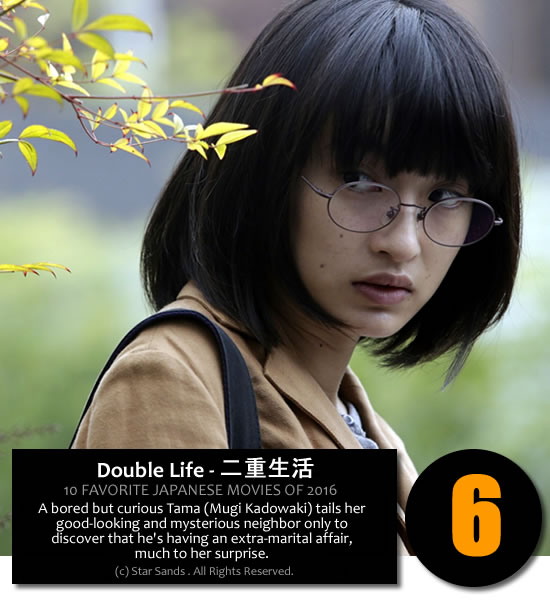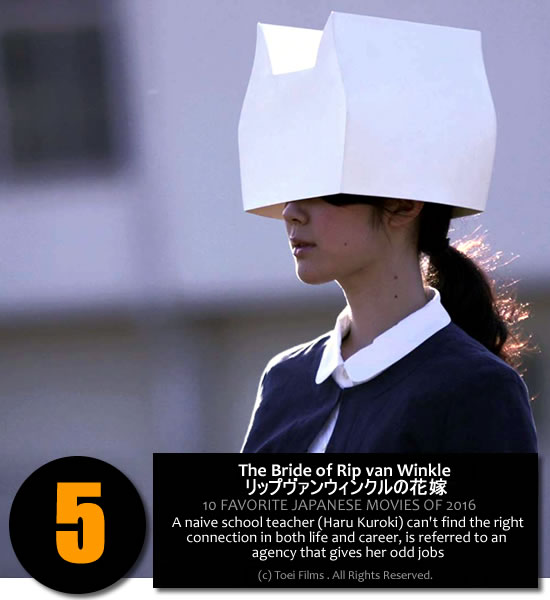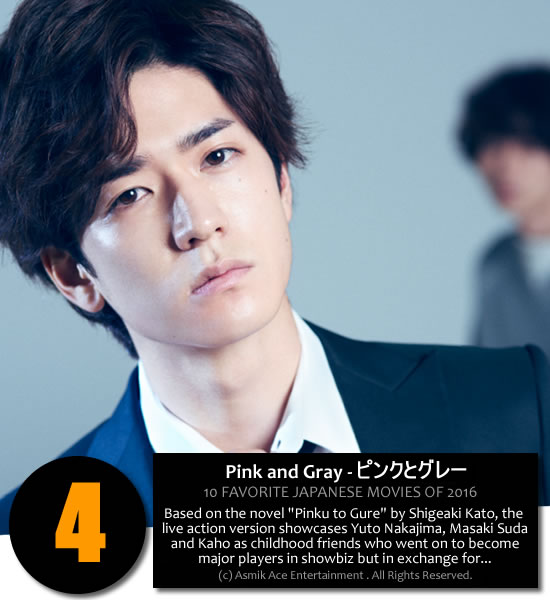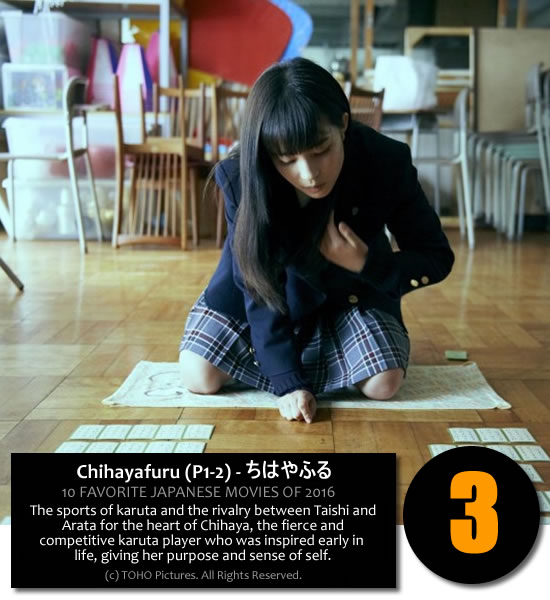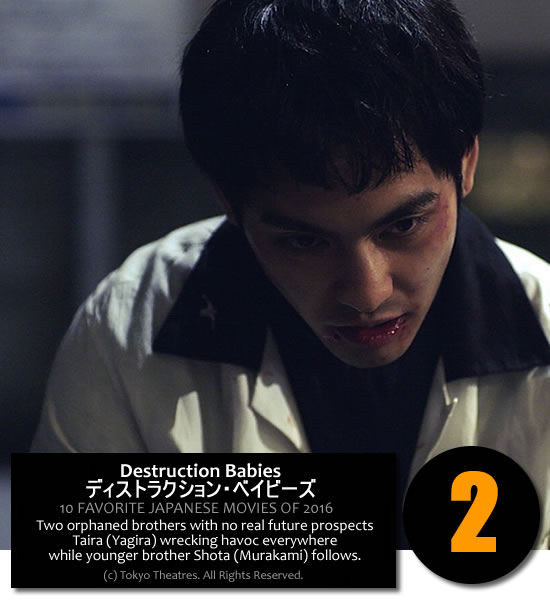 I love drama and some of the most famous Japanese filmmakers love doing dramatic movies. However, I would say If Cats Disappeared From the World and Orange (rank #11) appeal more to the emotion (as tearjerkers) leaving behind some of the "substance". Both films serve a useful purpose – acting launchpads.
I Am A Hero celebrates the zombie genre with Yo Oizumi as the 'loser' turned hero. Masami Nagasawa shines, while Kasumi Arimura maintains her status quo (#Deadfisheyes). Nonetheless, the film delivers a perfect mix of thrills, splatter, and comedic relief to make it one of the year's best.
Chihayafuru (Part 1 and 2) is the year's most delightful live-action adaptation, with plenty of acting showdowns. Kudos to Mayu Matsuoka for playing the karuta queen and to the whole cast for a job well done. 
Setoutsumi (with Masaki Suda and Sosuke Ikematsu) reminds me of Train Brain Express (starring Eita and Kenichi Matsuyama) but more in-your-face.
Fumi Nikaido takes the lead in Wolf Girl and Black Prince, reintroducing the premise of a 'pretend' boyfriend. The handsome target (Kento Yamazaki) has plenty of emotional issues himself, making the "relationship" more than just a one-dimensional romantic affair. 
Mugi Kadowaki, bored and curious, takes us into the world of the voyeur in Double Life. Her relentless pursuit of her handsome neighbor (Hiroki Hasegawa) is thrilling and dangerous.  But the consequences of her actions have profound (and tragic) effects, one might ask, why do it in the first place?
Bride of Rip van Winkle and Pink and Gray appeal more to the intellect and pose the question – Who am I? Shunji Iwai's latest (with Haru Kuroki) is more cerebral in approach, while Isao Yukisada adds a touch of mystique (with Yuto Nakajima making a giant leap in terms of dramatic appeal).
Destruction Babies elicited either positive or negative reaction, with no compromise or middle ground. The biggest complaint being – what's the purpose of such violence? I guess, the title of the movie is quite obvious already.
Which brings us to the #1 rank film – Your Name (Kimi No Na Wa). So we have an anime as the number one Japanese film for 2016. Yes, and quite deservedly. Watching Makoto Shinkai film makes the spirit soar, tugs at the heart, and gives hope in this time of uncertainty. After all, movies are supposed to inspire, isn't it?