While the likes of Sayuri Yoshinaga, Kirin Kiki, and Rie Miyazawa vie for more acting awards and Takako Matsu, Sakura Ando, Hikari Mitsushima, Chizuru Ikewaki, Mao Inoue, and Yu Aoi following their leads, the younger batch of Japanese actresses are as promising. 
2016 is a particularly strong year for young Japanese stars like Mayu Matsuoka, Mugi Kadowaki, Hana Sugisaki, Nana Komatsu, Fumi Nikaido and Mitsuki Takahata. 
Special mention for Haru Kuroki for an unforgettable portrayal of a young woman in search of herself in Bride of Rip van Winkle. The fact that she did comedic wonders in Juhan Shuttai should make her one of the year's biggest headliners.
At this point, the Best Actress frontrunners are:
Yu Aoi – Over The Fence;
Rie Miyazawa – Her Love Boils Bathwater;
Haru Kuroki – Bride of Rin van Winkle
Aoi Miyazaki is also getting lots of buzz for her role in Sang Il-Lee's Anger (Ikari). Mayu Matsuoka takes home the most Newcomer/Rookie awards while Hana Sugisaki (for Her Love Boils Bathwater) gets plenty of Best Supporting Actress nods so far.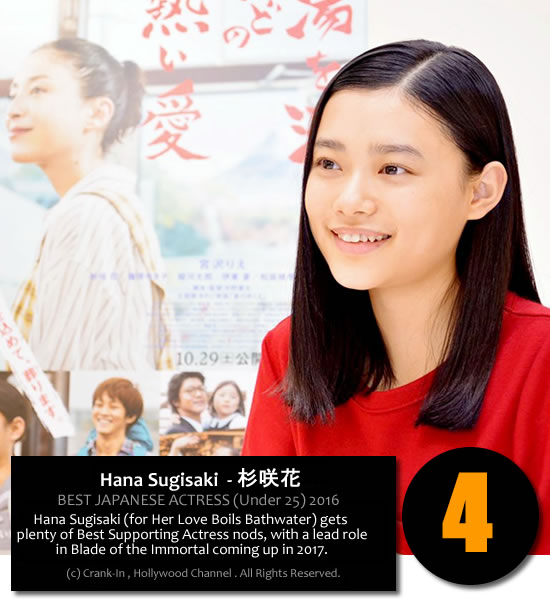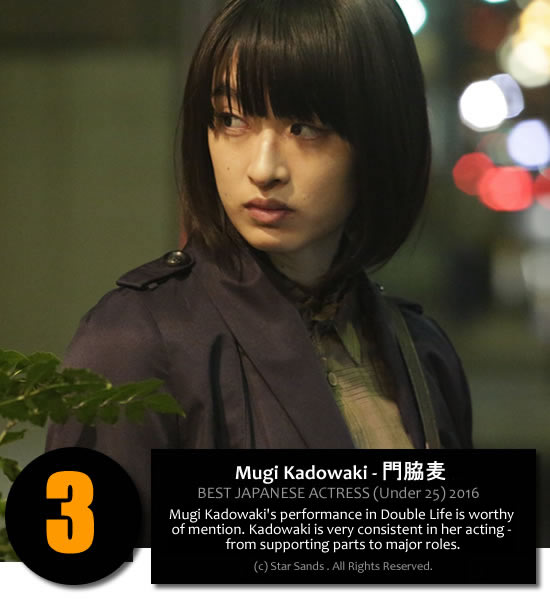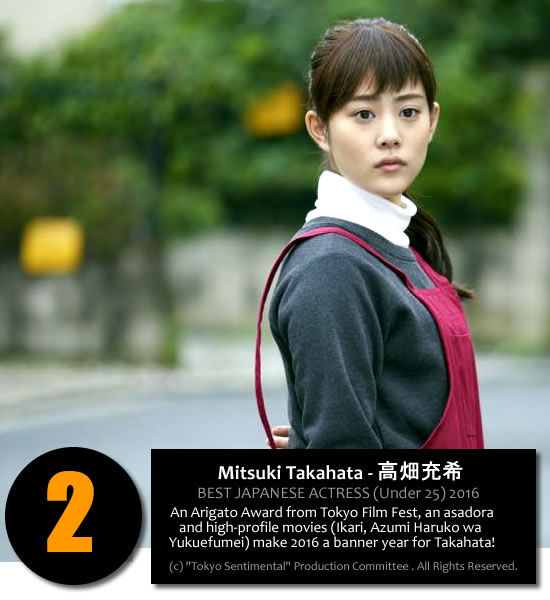 Mitsuki Takahata, who headlines NHK's 94th asadora Totone Chan, gets the Arigato Awards at the Tokyo International Film Festival:
At the age of 13, she debuted in the starring role of theater production "Playback Part 2: Okujo no Tenshi" (05). She went on to star in the stage musical "Peter Pan" for six years (07-12). In 2013, she earned accolades for her role as the stepsister of the heroine on NHK's drama series "Gochisosan." She starred in this year's romantic megahit, Evergreen Love (16), and appeared in both Rage (16) and Japanese Girls Never Die (16), which was selected for the 29th TIFF Competition section. She is currently starring in the NHK series "Toto Nee-Chan: Fatherly Sister," playing Tsuneko Kohashi. She will soon be seen in the play "My Name is Shingo" (December, 16) and "Elektra" (April, 17), and will be voicing the main character in the anime film Napping Princess: The Story of the Unknown Me (March, 17). [ source ]
Previous year list is here, with Komatsu constant at #5 followed by
#4 – Suzu Hirose
# 3 – Mayu Matsuoka
# 2 – Fumi Nikaido
# 1 – Tao Tsuchiya
Mugi Kadowaki's performance in Double Life is also worthy of mention. Kadowaki is very consistent in her acting – from supporting parts in Wolf Girl and Black Prince, Omukae Death (TV series), Cold Case (TV series), and Gassoh to major roles in Taiyo (The Sun). The same can be said with perennial favorite Fumi Nikaido. Two of her projects come to mind – Wolf Girl and Black Prince and Kako: My Sullen Past.
Nana Komatsu's complete transformation as the incorrigible and opportunistic bitch in Destruction Babies deserves raves! After seeing her in the dull, fan serving Kurosaki kun no Iinari ni Nante (with Yudai Chiba and Kento Nakajima), playing opposite Yuya Yagira and Masaki Suda must be her most hypnotic acting to date, after The World of Kanako. 
Last but not the least, Mayu Matsuoka! The excitement and 'electricity' Matsuoka has created in the past 2 years is phenomenal. This is the girl who co-starred with Kento Hayashi in the little known period drama Ginnikan who went on to become the scene stealer in Mondai no Aru Restaurant and made waves performing in a unique TV drama Sono "Okodawari", Watashi ni mo Kure yo!!. While she has yet to star in an asadora, Matsuoka proves she has what it takes – no matter how small her role – to rule the J-ent scene.