Breakout, as differentiated from a breakthrough, sounds more appropriate to describe talents on the verge:
suddenly and extremely popular or successful; an instance of surpassing any previous achievement
Last year, we feature a lot of 'new' faces (perhaps to some who are new to the Japanese entertainment scene), but then again, these very same actors are now playing a lot of the major roles in movies and dramas. Take for instance Yuina Kuroshima who co-stars with Shuhei Nomura in Sakurada Reset or Fumika Shimizu who plays one of the main roles in Tokyo Ghoul (opposite Masataka Kubota). 
Of course, there's Nijiro Murakami, Hiroya Shimizu, Mackenyu, Taishi Nakagawa, and Kentaro Sakaguchi, to name some more. This year, we narrow it down to just seven names, and they are all potential big stars, or ready for the indie scene or both!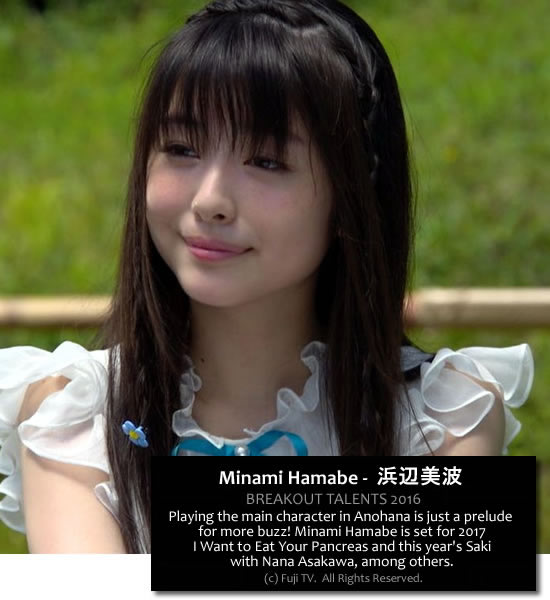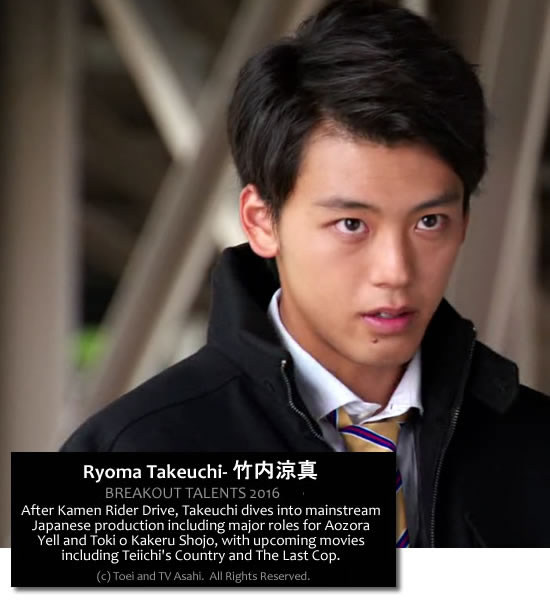 Among the names on the list, Amane Okayama stands as a singular representative for independent Japanese films, while also playing major and supporting parts for mainstream movies. His collaboration with "Dictator, Koga" director Toshimitsu Iizuka for Poetry Angel is a good example of his diverse work.
On the other hand, we have a model and a "former" ikemen in Kentaro and Ryoma Takeuchi. The single named Kentaro has all the makings of a rom-com prince, but can also play someone 'dark and brooding'. Depending on how his agency manages him, Kentaro might be the next big thing.
Minami Hamabe's casting for I Want to Eat Your Pancreas is – perhaps – just a prelude to what's to come. The same goes for Yuna Taira, with a major role in Taishi Nakagawa's Re: LIFE.
Taishi's co-star in Today's Kira-kun, Marie Iitoyo is already creating a buzz in MARS.
Last but not the least, we have Mei Nagano. The versatile young actress who can be credible in anti-heroine roles, as well as, playing the lead star is one of the most charming and enigmatic young talents in Japan right this minute. Check out her work in Koe Koi and Ore Monogatari!!.