A Double Life is about a curious young woman who followed her neighbor and discovered he is having an extramarital affair. Based on the novel "Nijyuu Seikatsu" by Mariko Koike, Tama (Mugi Kadowaki) becomes inspired by the French writer and artist Sophie Calle during her Uni lectures. Calle is known for "her detective-like ability to follow strangers and investigate their private lives." In other words, Calle is the model and inspiration of today's stalkers.
To put Calle's methods into practice and prepare her Master's paper, she did exactly as the French writer and began to tail her neighbor Ishizaka (Hiroki Hasegawa), who is a family man with a secret.
She could not find a better subject since the guy loves to have sex with his mysterious lover in public. Such sexual encounters excite and titillate, making it almost unbearable for Tama to stop, disrupting her life as she pursues them with such passion and fervor.
Tama's first time to seek out Ishizaka proved to be a turning point as she witnesses the guy undressing an attractive woman in between a facade in a posh Tokyo district. Her curiosity led her to gawk as the couple makes love in a frenzy. Talk about having sex in public and the thrill of getting caught! 
Just like Calle who takes notes of her subjects, Tama writes down her observations in a notebook – with detailed descriptions of where Ishizaka and his lover go – whether it's inside an expensive restaurant that serves as a prelude to more sex or the actual love nest itself. Tama will spend the whole day following them. In the end, she comes home exhausted, her boyfriend (Masaki Suda) getting suspicious.
But the question remains: What exactly has she accomplished by snooping on her neighbor?
The filmmaker himself – apparently – has some answers:
Although I had a kind of fighting spirit of wanting to show current events, I have ended up expressing a rather universality. All humans have that kind of duality. But perhaps we are living in an age where just 'dual' is insufficient. By tailing, Tama noticed that the only way to understand others was to consider others to the point of identifying with them. In reality, it is a very troubling and difficult thing, however, I think that without at least that degree of awareness, it is not possible to imagine the pain of others, or what is going on in the world. If people who have seen this movie keep that in mind, and discuss it with others, I would be pleased [ source ]
---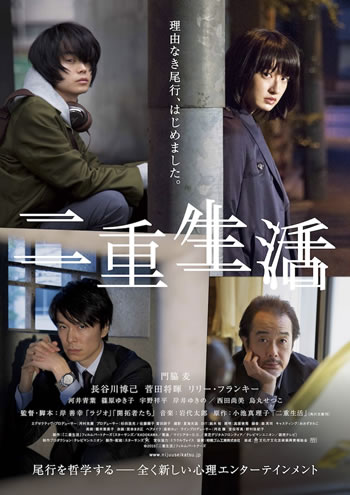 ---
A Double Life is Mugi Kadowaki's first film leading role. While her performance in Love's Whirpool with Sosuke Ikematsu is bold and daring, she goes a notch higher here as the insatiable stalker cum bored student. This kind of performance puts her in the same league as Fumi Nikaido (My Man), Chizuru Ikewaki (The Light Shines Only There) and Haru Kuroki (The Bride of Rip Van Winkle). 
As evidence of Kadowaki's commitment, she got nominated for Best Actress at the Raindance Film Festival. Better still, the movie won for Kadowaki the same award at the 14th International Film Festival of Asian-Pacific countries in Vladivostok, with its filmmaker grabbing the Best Director trophy.
A Double Life is a remarkable attempt by first-time director Yoshiyuki Kishi. Even without the aid of subtitles, I was thoroughly captivated by the movie, and of Mugi Kadowaki's masterclass performance.