Updated for 2016: This article first appeared on May 2012 and remains one of the site's flagship articles. A lot of people have requested me to update the list to include new titles, and I also want to rewatch the movies with a different (albeit with a more critical pair of eyes). Among the new titles worthy of recommendation are Seven Days (starring James Takeshi Yamada and Tomoki Hirose) and Doushitemo Furetakunai (starring Yonehara Kousuke and Masashi Taniguchi). I will talk about them in details in the next part. Also, we're going to celebrate the Takumi kun series, featuring the one and only Kyuosuke Hamao in Part 3, stay tuned!
So you think you've seen the best BL (Boys Love) movie already, right? Guess again! If it's not Japanese then you ain't seen nothin' yet. If it's not made in Japan, then it's not really Yaoi. While I've seen a good number of BL themed movies such as Thailand's The Love of Siam and Bangkok Love Story, HongKong's Amphetamine and Bishonen, there are certain distinctions that make Japanese BL-themed movies different.
Probably the most important distinction is the creator of BL-themed movies. There are some extremely talented female manga authors who create the best Yaoi stories in Japan. Their take on love and relationship between young men is different from everyone else – especially from the filmmakers who produced BL-themed movies outside – the kind of characters, how they behave, how they react and relate to other characters are the distinctions of Yaoi as compared to, say the German movie Summerstorm, the Canadian hit C.R.A.Z.Y, the TV series Queer as Folk and the movies I've mentioned above. There is a particular emphasis on tenderness, jealousy, insecurity and reconciliation in most of the Yaoi movies I've watched. There is also the distinction between the roles – following the Seme-Uke formula, where one is usually the dominant partner, while the other is the submissive one. In other movies, there is still that constant struggle for dominance in the relationship.
If you're still totally clueless to what I'm talking about, here the definition, and right after that you'll see the movies on the list and you'll probably not going to wonder why anymore:
Yaoi also known as Boys' Love, is a Japanese popular term for female-oriented fictional media that focus on homoerotic or homoromantic male relationships, usually created by female authors.
As these depict males, there is an androphilic male audience as well, however, manga aimed at a gay male audience is considered a separate genre. Originally referring to a specific type of dōjinshi (self-published works) parody of mainstream anime and manga works, yaoi came to be used as a generic term for female-oriented manga, anime, dating sims, novels, and dōjinshi featuring idealized homosexual male relationships. The main characters in yaoi usually conform to the formula of the seme (lit. "attacker"?) who pursues the uke (lit. "receiver"?). In Japan, the term has largely been replaced by the rubric Boys' Love (Bōizu Rabu?), which subsumes both parodies and original works, and commercial as well as dōjinshi works. Although the genre is called Boys' Love (commonly abbreviated as "BL"), the males featured are pubescent or older. Works featuring prepubescent boys are labeled shotakon and seen as a distinct genre. Yaoi (as it continues to be known among English-speaking fans) has spread beyond Japan: both translated and original yaoi is now available in many countries and languages. [ wiki ]
– – –
Boys Love (DVD and Theatrical – 2006, 2007)
Boys Love consist of two Japanese films directed by Kōtarō Terauchi. The first, titled simply Boys Love, was released directly to DVD on November 24, 2006. Due to the commercial success of the first movie, Terauchi was invited to direct a new version of his film to be released in theaters, Boys Love theatrical edition. The story has also been adapted into a manga of the same name by shōjo manga artist, Kaim Tachibana.
– – –
Boys Love (First Movie) – 2006
Storyline: Just doing his job, magazine editor Taishin Mamiya (Yoshikazu Kotani) interviews high school model Noeru Kisaragi (Takumi Saito). Despite Noeru's bad attitude, an enchanting picture of the ocean he draws leads Mamiya to invite him out for dinner afterwards. They connect at the restaurant, but while in the bathroom there Noeru solicits Mamiya sexually. The next morning, Noeru's office calls the magazine office where Mamiya works. "Your editor was rude. Have him come and apologize." When Mamiya goes to Noeru's house to deliver the apology, he sees Noeru with a dirty-looking man. Mamiya is shocked to discover at that moment that his interest in Noeru goes beyond article research—he truly wants to know more about him.
Reaction and Critique: No matter how flimsy, predictable or incredible the storyline might be, I am convinced that the acting will somehow save a movie. I watch BL movies to enjoy myself and focus on the acting. Other reviewers will attempt to justify or even rationalize the story behind, but I put the spotlight on the performance. In the case of Boys Love – both Takumi Saitoh and Yoshikazu Kotani – performed well enough, especially Saitoh. Ikotani for his part played his role as a 'matter-of-fact', just like an ordinary company staff doing his 9 to 5 job, but he had his moments. The scene in the swimming pool was both funny and romantic, they somehow managed to click together and this ambiguous chemistry translated into something noteworthy. The ending, however, is another story.
Rating: 2.5 out of 5 stars
– – –
The second movie, also known as, Boys Love (theatrical version) stars Kotani Yoshikazu and Yoshikazu Kotani (again, this time he plays the role of the teacher).
Storyline: Kairo Aoi (Yoshikazu Kotani) teaches at a prestigious boarding school. One day, after a falling out with his girlfriend, he meets a young guy who provides him comfort and consolation during his time of need. Soon after that, a new student, Sora (Atsumi Kanno), transfers into his class and is the same boy he had encountered before. Kairo tries to put the past behind him and keep their relationship a secret, but Sora is not about to let go easily. Kairo tries to keep Sora away from him but they eventually become a couple.
Reaction and Critique: I love a BL movie in a school setting. I was reminded of the 1989 movie featuring Robin Williams – Dead Poets Society (with a young Ethan Hawke and Robert Sean Leonard in the lead roles). In Boys Love, it's like Dead Poets Society with a gay twist. However, be prepared for some 'unconventional' scenes that might surprise you. Compared to the first Boys Love, this is the better movie. The storyline is more polished and the characters more defined. While it's actually more complicated with some great characters supporting the two main protagonists, it works well enough. Kotani Yoshikazu, like Takumi Saitoh, fits the role of the student perfectly. Armed with a charming smile, a body to die for, and that hair! (see photo above), anyone would be allured by his charms. The ending, like the first movie, is something… something… (and I leave it at that, suffice to say, it sucks!)
Rating: 3 out of 5 stars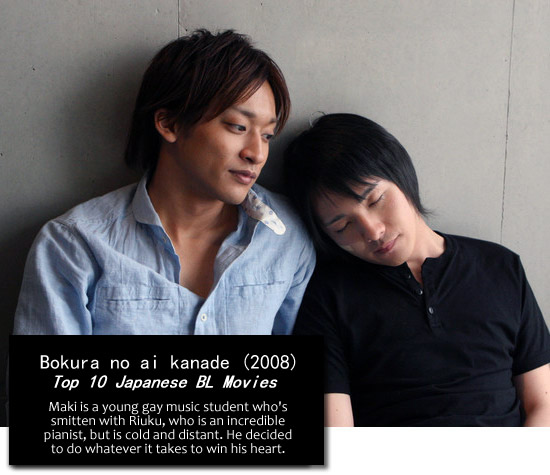 – – –
Bokura no ai no kanade (2008)
Storyline: Maki (Kouki Watari) is a young gay music student who's completely smitten with his classmate Ruiku (Masato Uchiyama), who plays piano with incredible passion but is cold and distant to everyone. Maki decides to do whatever it takes to get Ruiku to return his feelings.
Reaction and Critique: Again, some parts of the story are just simply incredible. The characters are not as developed as in Boys Love, but both Masato Uchiyama and Kouki Watari charmed their way into moviegoers' collective hearts. Uchiyama was credible as the cold-hearted Ruiku, who is a piano genius, but lonely since he was just a child. Kouki Watari is the charmer here – I love the way he pursues Ruiku with all his might. He really did almost everything to win Ruiku – cooking for him, taking care of him like a well-paid Nurse, even using his body to save Ruiku from ruin. Others may not like the ending, but I think it was just perfect. It makes viewers think more of what would happen once they meet again. If their love is really genuine, then there is nothing to worry about.
Rating: 3 out of 5 stars
– – –
– – –
Itsuka no Kimi e (2007)
Directed by Kei Horie (who also wrote the script, together with Yusei Naruse). It stars Takumi Saitoh (a popular young actor, who also played the lead role in Boys Love, another movie on the list) and Ryûnosuke Kawai.
Storyline: After Noboru (Saitoh) saves Hayase (Kawai) from drowning by giving him mouth-to-mouth, Hayase grows confused about his feelings. It doesn't help that around the same time he meets Noboru's twin brother Ryu who has a very different, outgoing personality.
Reaction and Critique: There are some scenes where it comes off as being over-acting, especially in the case of Kawai. I don't even like the young supporting actress who is close to him, she's a bit annoying for me. But there are some good scenes like the bar scene where both protagonists face off and provided some of the movie's highlights. There are some 'mind-bending' ingredients that somehow added a bit of mystery to the character of Saitoh.
Rating: 2 out of 5 stars
– – –
– – –
Ai no Kotodama (Words of Devotion) – 2008
Now here is the definitive Japanese BL movie! The chemistry between the two major lead stars is almost palpable – Yasuka Saito is such a charmer – with his long hair and really (I mean really) sexy eyes and amazing voice. He really registers well on screen, and together with Hidenori Tokuyama, they created the illusion of a loving relationship between two almost opposite individuals with different aspirations and goals, yet are totally devoted to each other. While Saito charms his way into the movie, Tokuyama provided the heat. If Saito has sexy eyes, Tokuyama has eyes that cut like laser. He has a certain intensity that can really make you squirm, yet he is as charming and as loveable as Saito.
Storyline: Ootani and Tachibana have been inseparable since high school. Now that they're in college, they live together, they're happy and everything seems perfect. But their little world is disrupted when they meet an old high school friend, Yuki, who seems to have a crush on Tachibana, making Ootani feel jealous and insecure. Will Tachibana really choose him over a pretty girl?
Reaction and Critique: I am totally smitten with the story and the stars. Even the young actress who provided the conflict between Shinya and Miyako (Yuki – played by Rinako Matsuoka) made a nice movie even nicer. She is charming and naive, yet she never appeared overwhelming. What makes this movie a favorite is its message that no matter what test a relationship has to go through, as long as there is love, trust, and loyalty between the partners, nothing can go wrong. Kinda cliche I know, but it works here.
Rating: 4 out of 5 stars
– – –
This is the end of Part One. In Part Two, I'll discuss and critique The Takumi Kun series. What do you think of the movies on the list? Which is your favorite? Who among the actors made such an impact on you? Let us know what you think! >