Our previous articles on Japanese live-action adaptations have focused on the movies, the storylines, and box office results. In this series, we'll put the spotlight on select characters and the actors playing the parts. 
Much of the buzz is on Death Note: Light Up the World due to the triple casting of Masahiro Higashide, Sosuke Ikematsu, and Masaki Suda. Let's talk about that later – I think the topic of L and Light Yagami (notwithstanding that we have fresh new characters in this movie) has been exhausted to a great extent already. I also believe there are plenty of interesting characters aside from these two colorful personalities.
– – –
For example, we have:
Rei Kiriyama: March Comes in Like a Lion, portrayed on the silver screen by Ryunosuke Kamiki;
Kusuo Saiki: The Disastrous Life of Saiki K, played by Kento Yamazaki;
Ichigo Kurosaki: Bleach, played by Sota Fukishi
Since this is just Part 1 of the series, let's discuss some others later on.
Let's discuss Ryunosuke Kamiki's new movie; March Comes in Like a Lion. Here's a backgrounder of what it's all about:
Rei Kiriyama is a 17-year-old boy who recently started living alone, financed by his salary as a professional Shogi player. Despite his independence, however, he's yet to mature emotionally, and his problems continue to haunt him in his daily life. His relationship with his adoptive family is strained, and he has difficulties interacting with his fellow high school students. Meanwhile, his professional career has entered a slump. Burdened with the heavy expectations placed on him as the fifth to become pro in middle school, his wins and losses are fluctuating as his record and progression into the ranks begin to stagnate.

Acquainted with Rei are the three Kawamoto sisters: Akari, Hinata, and Momo. Unlike Rei, they live happily in their modest home, which they warmly welcome Rei into as if he were one of their own. Despite his reservations about becoming too close to the family, he frequently visits, interacting with them and receiving the kind of care and affection he never quite had while under his foster home.

This is the story of Rei's triumphs and failures, relationships new and old, and his growth as a person.
A departure from youth-oriented roles for Kamiki will happen in The Sun (Taiyo), the apocalyptic film with Mugi Kadowaki. Previously, he was a reporter in disguise in the TV comedy Samurai Sensei and as the brain transplant patient in Henshin (with Fumi Nikaido).
I don't mind if he plays a hundred student roles, especially if they tackle different kinds of characters, so being the lead actor for March Comes in Like a Lion is a great news.
I'm impressed with how he became Takeru Amaya in As the God's Will or how he takes on Soujiro Seta in the Kenshin trilogy. There is such integrity in the way he acts – even in Little DJ (2007) or Into the Faraway Sky (2007), he leaves something for the audience to reflect on the character. A good actor is someone who leaves a lasting impression, and that's how Kamiki is.
"to mature emotionally" that's his character in March Comes in Like a Lion and the strained relationship with his adoptive family and the problems relating to fellow students. I just know, there will be a few acting highlights for Kamiki in this movie. The acting that would – most probably – surpassed The Kirishima Thing.
– – –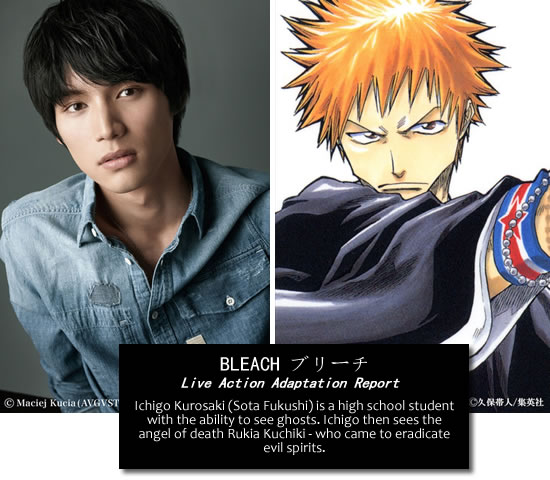 Interesting enough, this site is one of the first to ever promote Sota Fukushi back in 2013 when he played an alien (opposite Ryoko Hirosue) in Starman. He was starting to make a name for himself via Kamen Rider Fourze. The problem is that he was cast alongside Shuhei Nomura in Enoshima Prism who is – obviously – the better actor, and together with the equally untalented Tsubasa Honda, managed to ruin an otherwise fine film. Not that it matter too much, they were together again in the getsu9 drama Koinaka and the bad acting continues… 
In BLEACH, Fukushi will have another chance to redeem himself, if that is even possible. Here's a background of the character and the story:
Ichigo Kurosaki is a teenager who can see ghosts, a talent which lets him meet supernatural trespasser Rukia Kuchiki. Rukia is one of the Soul Reapers, soldiers trusted with ushering the souls of the dead from the World of the Living to the Soul Society —the afterlife realm from which she originates—and with fighting Hollows, monstrous lost souls who can harm both ghosts and humans. When she is severely wounded defending Ichigo from a Hollow she is pursuing, Rukia transfers her Spirit Pressure to Ichigo so that he may fight in her stead while she recovers her strength. Rukia is thereby trapped in an ordinary human body, and must advise Ichigo as he balances the demands of his substitute Soul Reaper duties and attending high school.
Perhaps not as challenging as Kamiki's Rei, Ichigo is nonetheless a complex character:  
As a teenager, Ichigo is stubborn, short-tempered, strong-willed, and impulsive. Despite claiming not to care about what other people think about him, he attempts to maintain a detached and "cool" image. He generally keeps his face set in a near-permanent scowl, with his eyebrows drawn together. [source]
A near permanent scowl – perhaps a Yuya Yagira signature in Crows Explode – can you imagine Fukushi doing that? How about the "fierce" eyes? the stubbornness? ha!
– – –
After Orange, Your Lie in April and Wolf Girl and Black Prince, Kento Yamazaki is venturing into fresh acting waters via The Disastrous Life of Saiki K. 
Described as a gag manga series, the live-action adaptation will test Yamazaki's comedic abilities.
In comedy, a visual gag or sight gag is anything which conveys its humour visually, often without words being used at all. The gag may involve a physical impossibility or an unexpected occurrence. The humor is caused by alternative interpretations of the goings-on. Visual gags are used in magic, plays, and acting on television / movies.
After romancing the likes of Fumi Nikaido, Suzu Hirose, and Haruna Kawaguchi, Yamazaki will try to portray a completely different character. Can he succeed?
A high school student who was born with all manner of psychic abilities including, but not limited to, telekinesis, teleportation, telepathy, and invisibility. Because of his constantly growing power, he has to wear two pink antennaes on his head in order to limit his power. Because of the misery that comes from the attention he receives as a psychic, Saiki tries to avoid attention as much as possible, using his telepathy to read people's minds and try to avoid confrontation.
OMG They did choose pink hair for Kento ??? pic.twitter.com/LAbUZjChg0

— K Loulliet (@KLoulliet) September 16, 2016
Wearing pink hair with two equally pink antennas might be too much for some viewers, but then again, this is "gag" comedy acting. I so look forward to watching this! 
In Part 2, we'll have more of the new, fresh characters from the latest Death Note movie.