Based on the manga series "Shigatsu wa Kimi no Uso" by Arakawa Naoshi, the live action adaptation of Your Lie in April (四月は君の嘘) centers on Arima Kosei (Yamazaki Kento), a shy, unassuming young boy and piano prodigy and Miyazono Kaori (Hirose Suzu), a free-spirited and fearless young girl who is a passionate violinist. Their lives intersect when a close friend (Ishii Anna) set up a date between Kaori and Watari Ryota (Nakagawa Taishi) with Kosei tagging as the friend's date.
While the girl tries to be friendly with her match, it was Kosei she is eyeing all along. She later revealed to having known Kosei as the young musical genius who inspired her to take on the violin. Thus, a bond was formed which gets to be tested time and again as the duo joins a number of musical competition. 
It's not hard for Kosei to fall for Kaori since they are opposites – Kosei plays the piano with subtlety, technical competence, and honesty, while Kaori challenges conventions by doing her own interpretation without regard to what the judges (or the audience for that matter) might say. 
Kaori also enjoys invading Kosei's personal space. Nothing is 'sacred' or off limits to her – even the piano room that Kosei has so many painful memories. You see, Kosei stopped playing the piano when his Mom died. He blames himself for her death. 
When Kaori enters Kosei's life, he began to change. But like the most romantic coming of age movies, there should be some twists and turns – one of them has to do with Kaori's health condition. 
Fans of the manga and perhaps those who fell in love with the anime are understandably emotionally invested in the source, and some (including the author) have a low expectation of the live-action adaptation. However, an LA is not necessarily a bad thing and in the case of Your Lie in April, it ultimately rests on the actors' performances.
---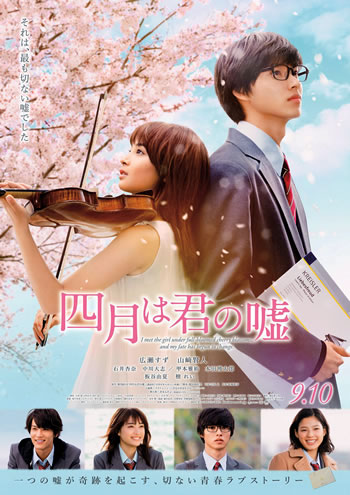 ---
Your Lie in April is the fifth movie that showcases Yamazaki Kento as an emerging actor who plays romantic leading roles. Reports have it that Hirose and Yamazaki did extensive instrument training. A video interview featuring the four main actors further revealed how Hirose and Yamazaki struggled to make certain scenes as authentic and honest as possible. The actor was quoted as saying:
I tried my best to embody Kosei Arima. The concert scenes in the original manga are so dynamic that you can almost hear the music. I'm new to the piano, but I'm practicing hard every day so I can express Kosei's flux of emotions in the music.
While the viewers appreciate all the hard work, they are more concerned with the on-screen chemistry and this is where I find it a bit lacking. With exposure to the films of Il-Lee Sang (Ikari) and Koreeda Hirokazu (Umimachi Diary), I would expect Hirose to be more competent, but she retains her habit of repetition and exaggeration. She must have misread her role that being fearless means over-dramatization. Such misreadings affected her interaction with Yamazaki who did a decent job transforming into the shy prodigy. One can't help but compare the chemistry between Nikaido Fumi and Yamazaki in Wolf Girl and Black Prince who both played their roles so convincingly. There is lack of tension between Hirose and Yamazaki, as when they are supposed to feel something is "going on". 
However, there are scenes between Hirose and Yamazaki that are highlights of the film – jumping off the bridge in a show of defiance and fun; eyeing each other during the musical competition; clearing the piano room together.
Ishii Anna stands out as Kosei's friend, who harbors deep romantic feelings for the boy. Nakagawa Taishi, who is being groomed to be the next Shoujo prince, improves his acting even further. We'll see what stuff he's made off once Re:LIFE is shown.
Director Shinjo Takehiko who previously helmed such films as Heavenly Forest (good) and I Give My First Love to You (better) disappoints in this one.