At the age of 26, Sakaguchi Kentaro – 坂口健太郎 – is a successful male model, and is now being regarded as a potential leading dramatic actor.
Think of Ore Monogatari!!, Heroine Shikkaku, Kounodori, and Juhan Shuttai!. No one can say that Sakaguchi did not impress in all of these roles!
I have often played the most popular boy in school, and that has surprised me since I don't feel like I am the type one would call good-looking. (laughing), so I have to make myself 100 times cooler than I think I am. [source]
That is probably the understatement of the year!
Yet, there is one particular role that fans have been anticipating – given to another actor – as Mamura Daiki in Hirunaka no Ryuusei:
Sakaguchi Kentaro is a Japanese model who mainly models for the Men's non-no, a magazine published by the same company as Margaret. He has been gaining popularity and recognition in recent times and many think he will be the next big thing. We are beyond stoked that Sakaguchi has been chosen and on top of that was also Yamamori-sensei's secret model for Mamura. Why? He was actually the first person to come to mind when we were discussing who would be the perfect Mamura. So to actually have this become reality, even if it's just photos, is pretty surreal! [read more]
It could have been a reunion of sorts between Nagano Mei and Sakaguchi (who were cast in Ore Monogatari!!), but instead, the role went to Shirahama Aran. Well, not to make a big issue out of the casting – since the author of Daytime Shooting Star only 'models' her character into Sakaguchi's likeness. Casting Sakaguchi for the role, apparently, is another story.
Romancing Japan's Rom-com queen, Ayase Haruka!
Being cast as the popular boy in school may no longer be the case as Sakaguchi teams up with Ayase Haruka in a Hollywood inspired black and white film entitled Tonight, at Romance Theater. He's playing an aspiring movie director. What makes this movie particularly interesting is when Ayase's character jumps out of the movie screen and into Sakaguchi's movie theater – where the young man introduces the 'princess' into the world of technicolor. [more about the movie here]
I'm currently studying acting so I really want to be an actor. Little by little and slowly, I want to increase the number of people that know me.
… says Sakaguchi in an interview. If you think about it – Sakaguchi has been a doctor (Koudonori), a pianist (Gomen, Aishiteru), an advertising exec (Juhan Shuttai) and yes, the popular boy in school but not necessarily the one who got the dream girl – twice it was snatched by Yamazaki Kento (Heroine Shikkaku) and Suzuki Ryohei (My Love Story!!).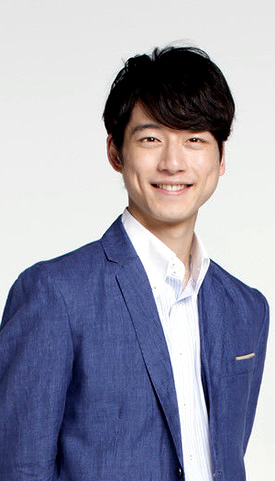 Drama breakthrough role in Juhan Shuttai!!
If there is one performance that would define Sakaguchi as an actor, it has to be Koizumi Jun in Juhan Shuttai!! – aside from the solid character development, Sakaguchi's successful transformation as the uninspired ad executive who became the champion of manga artists in pursuit of their first bestseller.
While Higashide Masahiro is also a former model like him, Sakaguchi surpassed The Kirishima Thing actor not by good looks, but by the conviction he demonstrated in playing the role. It's a delightful surprise to see a famous male model who can actually relay emotions as demanded of him. Other male models like Higashide (to a lesser extent, of course), Ryo Narita, and many others have yet to show their full capacity for dramatics. Imagine what he can do given a lead role in a movie?
the Beginning…
In the span of 1 year since he announced that he will pursue an acting career, Sakaguchi already had 3 movies in various state of production – Shanti Days 365 Days, Happy Breath is his first movie, and he's cast in a bit role. Two feature films are scheduled for release in 2015 including the Matsuyuki Yasuko-Takenouchi Yutaka drama-thriller called At Home, where Sakaguchi will play one of the kids. This might be a fun start for the young actor as the story is about a thief and a swindler (played by Takenouchi and Matsuyuki respectively).
The other film is called Otoko no Isshou, where he plays another supporting role with Eikura Nana as the lead. His biggest role to date is playing opposite Kiritani Mirei in Heroine Disqualified, with Yamazaki Kento as his rival.
The Original Tokyo Boy – article with data (still to be verified, but fascinating if true)
Sakaguchi Kentaro grew up as an only child with his parents in the bustling city of Tokyo, Japan. In his early life, Kentaro showed a genuine interest towards academic excellence, much like his father. He became fluent in Korean and English, as well as tackling mathematics two years above the national average.
Shortly following his 14th birthday, Kentaro's father passed away in an unfortunate accident and his perception towards life was altered. Kentaro discovered a newfound passion for photography, which later led to him taking part in some small modeling jobs. Kentaro's photo shoots garnered much love and attention from the public for his 'urban boy' look, gaining him the nickname 'Tokyo Boy.' Ironically enough, however, Kentaro soon was invited to participate in some modeling shoots overseas and after taking up an offer in South Korea, Kentaro shortly after migrated to Seoul with his mother. [source]
---
Career Highlights and Future Projects
Feature Films
Tonight, At Romance Theater | Konya, Romance Gekijo de (2018) – Kenji [main role]
Narratage (2017) – Reiji Ono
Golden Orchestra | Oke Rojin (2016) – Sakashita kun
The 100th Love with You | Kimi to 100 Kaime no Koi (2017) – Riku Hasegawa [main role]
The Kodai Family | Kodaike no Hitobito (2016) – Kohei Kishimoto
64: Part 2 | 64 Rokuyon Kohen (2016) – Teshima
64: Part 1 | 64 Rokuyon Zenpen (2016) – Teshima
The Inerasable | Zange: Sunde wa Ikenai Heya (2016) – Tetsuo Misawa
Teacher Gappa | Gappa Sensei (NTV / 2016) – Ryuji Saeki
Mohouhan (TV Tokyo / 2016) – Koichi Amikawa (Peace)
My Love Story!! | Ore Monogatari!! (2015) – Makoto Sunakawa [major character]
No Longer Heroine | Heroine Shikkaku (2015) – Kosuke Hiromitsu [major character]
At Home (2015) – Jun Moriyama
Our Little Sister | Umimachi Diary (2015) – Tomoaki Fujii (Yoshino's boyfriend)
Prophecy | Yokokuhan (2015) – Manabu Ichikawa
Her Granddaughter | Otoko no Isshou (2015) – Shinobu Dozono
Shanti Days 365 Days, Happy Breath | Shanti Deizu 365 Nichi, Shiawasena Kokyu (2014) – Shun
Drama Series
Dr. Storks | Kounodori (TBS / 2017) – Ryo Shirakawa
I'm Sorry, I Love You | Gomen, Aishiteru (TBS / 2017) – Satoru Hyuga
Tokyo Tarareba Girls | Tokyo Tarareba Musume (NTV / 2017) – Key
Toto Nee-Chan: Fatherly Sister | Totone Chan (NHK / 2016) – Takezo Hoshino
Sleepeeer Hit! | Juhan Shuttai! (TBS / 2016) – Jun Koizumi [breakthrough drama role]
Love That Makes You Cry | Itsuka Kono Koi wo Omoidashite Kitto Naite Shimau (Fuji TV / 2016) – Haruta Nakajo
Dr. Storks | Kounodori (TBS / 2015) – Ryo Shirakawa
Yokokuhan: The Pain (WOWOW / 2015) – (ep.4-5)
---
Born: July 11, 1991
Birthplace: Japan
Height: 183 cm
Blood Type: O
Top 3 acting performances: As the lethargic and uninspired ad exec Koizumi Jun in Juhan Shuttai, as the second lead, Kosuke, but the acknowledged scene stealer in Heroine Disqualified (versus Yamazaki Kento), and as Shirakawa Ryo in Kounodori (with some amazing and 'romantically' titillating scenes with Matsuoka Mayu).
Projected top future performances: As the aspiring movie director in Tonight, at Romance Theater (with Ayase Haruka) If the teaser trailer is any indication, it may become his most anticipated role. Also worth noting, is his role as the young pianist in the drama Gomen, Aishiteru.
---
Fast Facts
Kentaro Sakaguchi has been a model since 2010 & has established a record of sorts by appearing in the magazine [refer to one of the many: Men's NONNO April 2016 Issue] as the sole cover. Unlike other famous male models, he did not audition (or join a modeling competition) but was scouted.
He admires most of Studio Ghibli productions and that his favorite movies include Blue Spring (starring Ryuhei Matsuda).
Memphis Underground is his favorite song.
Dashi rolls and omelet are his favorite food. He remarked anything with 'eggs'.
He is often known as the Japanese counterpart of Seo Kang Joon (or vice versa).
[ngg_images source="galleries" container_ids="5″ display_type="photocrati-nextgen_basic_thumbnails" override_thumbnail_settings="1″ thumbnail_width="160″ thumbnail_height="220″ thumbnail_crop="1″ images_per_page="20″ number_of_columns="0″ ajax_pagination="0″ show_all_in_lightbox="0″ use_imagebrowser_effect="0″ show_slideshow_link="0″ slideshow_link_text="." template="default" order_by="sortorder" order_direction="ASC" returns="included" maximum_entity_count="500″]