In the Eight Year Engagement, a couple, Hisashi (Satoh Takeru) and Mai (Tsuchiya Tao), is about to get married when the girl fell into a coma.
Instead of abandoning her, the boy remains at her side. When Mai wakes up, she fails to recognize Hisashi and so the story continues.
Following the tradition of undying love – as exemplified by April Bride (Eita + Eikura Nana) and Koizora: Sky of Love (Miura Haruma + Aragaki Yui ), Shochiku ventures into the romantic drama genre. While April Bride tackles cancer, and so is Koizora, among others, The Eight Year Engagement brings the complication of disease with lapses in memory. The movie revolves around the loyalty and steadfast duty of a man waiting for his loved one to recover from an illness.
The time-tested formula (romance mixed with sickness and memory) is once again at play, and while I have no questions as to Satoh and Tsuchiya ability to play a loving couple, I wonder why Zeze Takahisa as the director? You see, Zeze directed such films as:
Maria no Chibusa (girl with superpowers who became a prostitute),
Strayer's Chronicle (more superpowers),
Pandemic ( the spread of disease) and many others
Then I remember that he also directed 'Life Back Then' (Eikura Nana + Okada Masaki) so he must be a good choice! The movie will rely on the autobiographical novel "8 Nen Goshi no Hanayome Kimi no Me ga Sametanara" by the Nakahara (Hisashi and Mai). Satoh and Tsuchiya are playing a real-life couple.
I don't know if the Nakaharas will be involved since there is a scriptwriter (Okada Yoshikazu) but it would be delightful news to hear if the actors will seek advice from the real couple. After all, this is a true story.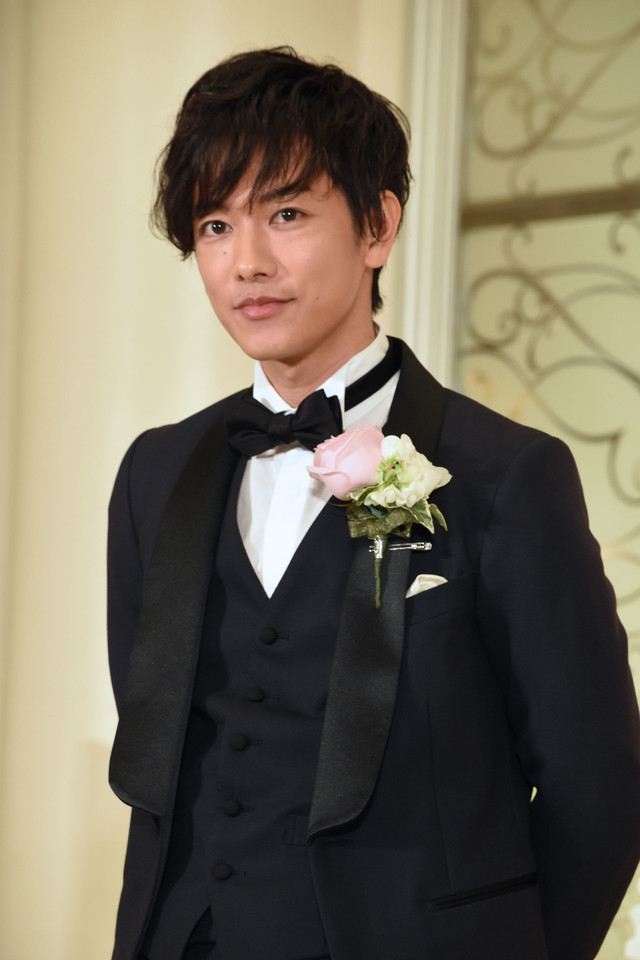 In as little as a year, Satoh's acting has evolved from being an actor 'assumed' to play heroes to playing down-to-earth characters with flaws and shortcomings. Kudos to his management for not exploiting Satoh but rather involve him in smart role choices. Such a management prerogative can further enhance his appeal regarding versatility.
For the periods 2015-2017 his acting resume will show:
The Eight Year Bride (8 Nen Goshi no Hanayome) – 2017 – Hisashi (a loyal, dedicated young man to his ill beloved);
Ajin: Demi-Human (Ajin) – 2017 – Kei Nagai (a demi-human who is hunted by the government);
Somebody (Nanimono) – 2016 – Takuto Ninomiya (a University student looking for a job);
If Cats Disappeared From the World (Sekai kara Neko ga Kieta nara) – 2016 – postman / devil ( dual role as a dying man and the devil himself);
Bakuman – 2015 – Moritaka Mashiro (an aspiring mangaka).
Developing his unique acting style remains since he still has not reached the level as Kamiki Ryunosuke has perfected (fast-paced dialogues, changing facial expressions at the blink of an eye) or Sometani Shota and Yagira Yuya with their attention-grabbing intensity on screen.
What he lacks, he compensates with his almost 'ideal' appearance to play young adults, thus the role in this latest full-length film.
On the other hand, Tsuchiya Tao , with an asadora and some upcoming high-profile movie roles, may share Satoh's continued search for an acting style. She has that star factor and can take on Hirose Suzu any time, but what about Matsuoka Mayu or even Kadowaki Mugi ? Here's what she has so far:
The Eight Year Bride (8 Nen Goshi no Hanayome) – 2017 – Mai (an ill young girl who fell into a coma before she could get married);
Ani ni Aisaresugite Komattemasu – 2017 – Setoka Tachibana (student with an older brother who loves her deeply);
Tori Girl – 2017 – Yukina Toriyama (Uni student involved in "human-powered flight" club);
P and JK (P to JK) – 2017 – Kako Motoya (high school student who fell for a police officer who is six years her senior );
Yell For The Blue Sky (Aozora Yell) – 2016 – Tsubasa Ono (a band member who falls hard for a baseball player);
Orange | Orange -Orenji- (2015) – Naho Takamiya (high school student who tries to change the past to help a loved one).
I would think both Satoh and Tsuchiya (more on Satoh) that they are at a stage in their careers when variety is crucial. Tsuchiya has plenty more time to play high school kids, but Satoh needs this role more than anything.
The momentum he got from Nanimono and If Cats Disappeared from the World cannot be ignored, thus the logic of my argument, why this role is perfect for him at this time.
His agency mate and friend, Miura Haruma, was once quoted as saying:
You're (Satoh) definitely a gentleman. He's way better than me at paying attention to the small details of people and following through on that. [ source ]
How relevant is that!
I think that this particular character of Satoh makes him more receptive and perceptive of other people's emotions. This ability to 'empathize' will work well in playing Hisashi. The movie's official website is here.