The live-action adaptation of Antiquarian Bookshop Biblia's Case Files – Biblia Koshodo no Jiken Techou is in the works! With a 2018 release date, the movie is directed by Mishima Yukiko and follows the everyday life of an eccentric, shy but passionate bibliophile named Shinokawa Shioriko (Kuroki Haru).
She runs an antique bookstore with the help of Daisuke (Nomura Shuhei), the store's clerk. However, the young man cannot appreciate the 'wonders' of books for some unknown reason (later it was revealed that he has a phobia). Their normal lives were suddenly disrupted by the presence of a mysterious man. Shioriko reveals that this intruder intends to steal her rare books and asked Daisuke for help.
Based on the "Biblia Koshodo no Jiken Techou" light novels written by Mikami En, the movie follows a previous TV drama of the same title starring Gouriki Ayame, Akira, and Tanaka Kei.
The locale of the bookshop – Kamakura – denotes a special meaning to the Japanese and books in particular. The seaside city of Kamakura was once the political center of medieval Japan. One landmark is somehow associated with the movie – The Kamakura Museum of Literature. The museum displays personal effects, manuscripts, first editions, and documents owned by well over a hundred writers of Japanese literature, including Sōseki Natsume, Yasunari Kawabata, and acclaimed film director Ozu Yasujirō.
Biblia Koshodou no Jiken Techou

NanoDesu Translation Project

… But "Case Files?" What does that mean? This is a mystery novel. There are mysteries and puzzles to solve in every chapter – but we don't solve crimes here. With Shioriko's help, we solve mysteries about books, and especially mysteries about the people who own them or used to, because you see, Biblia is also a book about books. Love for literature is enshrined in every page – whether it be Natsume Soseki's books or A Clockwork Orange. (But mostly Japanese literature.) Why don't you come into the bookstore and see what Shioriko can do for you? [English translation of the light novels]
In the light novels, Daisuke brings the complete (and autographed) collection of works by Sōseki Natsume that he inherited from his grandmother to the bookstore. There is also some romantic 'shades' that develops between the two characters.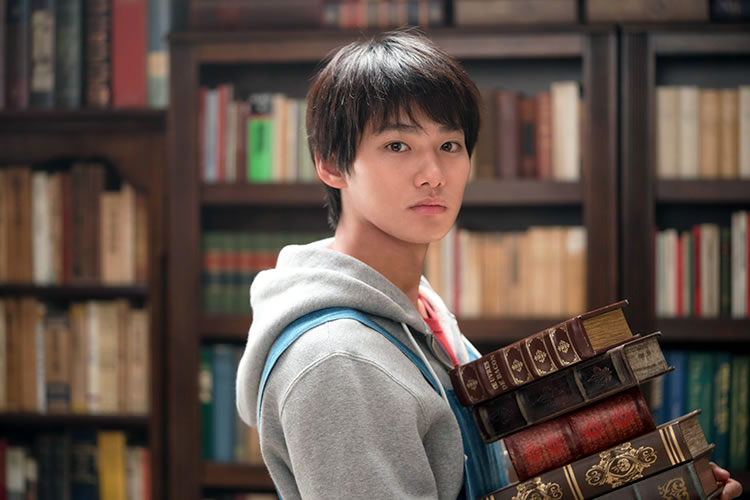 Says Kuroki on the live-action adaptation:
This movie is my second time to work with dir. Mishima (after A Stitch of Life, with Nakatani Miki) so I'm quite happy. I read the original light novels and is quite impressed, so as an actor, I want to contribute to bringing the same atmosphere as in the books. It's my first time to collaborate with Nomura Shuhei on film, and it's even a romantic relationship! For the original fans of the novels, I am hoping that they will also appreciate and support this movie. [a liberal translation from Natalie news post]
Don't judge a movie by its title sounds a bit ridiculous, but when you employ the acting services of Kuroki Haru and Nomura Shuhei, expect something good (if not fantastic) to happen.
The official movie website is here.