It's been a while since my last casting news post. I'm enjoying the Fall 2017 drama season so much that I hardly had time to catch up with the news and consolidate them here. However, if you're following our Twitter account, you'll get the latest updates on all fronts – movies, drama, even some anime.
In this edition, we got details on River's Edge, Nakagawa Taishi's Kids on the Slope LA (with Chinen Yuri and Komatsu Nana), plus: updates on Mackenyu, Sakaguchi Kentaro, Kitamura Takumi (who recently celebrated his 20th birthday), and much more!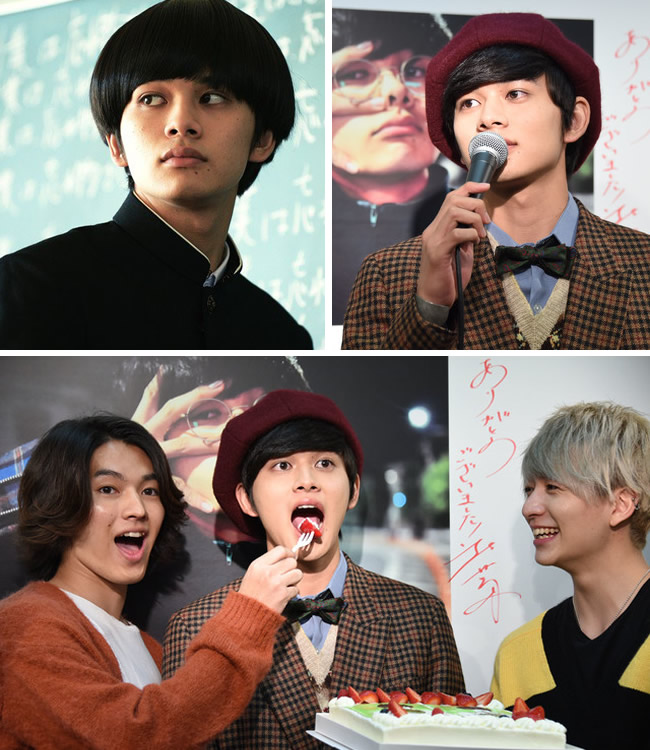 ---
Kids on the Slope (Sakamichi no Apollon) is – in my opinion – one of the best depictions of young male friendship, with multi-dimensional plots that include an older youth who became embroiled in campus politics during one of Japan's turbulent times.
The fact that it mixes music (jazz in particular) with the drama, romance and the pains of youth make it even more entertaining and sublime.
Kaoru is a brainy young man who moves during the summer of his first year in high school from Yokosuka to his uncle's house in Kyushu. In fact, Kaoru has been moving from place to place ever since he was a little kid due to his father's constant departure to work on a ship. That, combined with his expanded family's expectations for him, causes him to become an extreme introvert. But after Kaoru encounters Sentarō, he starts to change, all while learning the joys of jazz. Kaoru is a skilled pianist, familiar with classical music until he meets Sentarō and he starts practicing jazz music with him. Kaoru has unrequited feelings for Ritsuko who initially loves Sentarō instead until Ritsuko starts reciprocating his feelings. In the last chapter of the manga, he and Ritsuko are revealed to have gotten married, and Ritsuko is pregnant with their child.
---
article talks about Johnny's obsolete rule & also Yamada Ryosuke in TIFFJP

山田涼介、事務所の "時代遅れな社是" のせいで外国人記者から失笑されるhttps://t.co/5mEA9x5BFF

— — [HIATUS] — Portia 山田 ☃️❄ (@ryoosukeyama) October 28, 2017
The current state of fandom is that some millennials (and other generations as well) have become more responsive to each other and to their talents' management. Some Twitter accounts who promote certain actors (or Japanese idols for that matter) go beyond mere posting of raves, magazine scans, and movie premiere appearances. This is the case for Yamada Ryosuke watchers. The popular Johnny's talent is making waves via two highly-touted films – Fullmetal Alchemist and The Miracles of the Namiya General Store. Of course, he has to promote his movies and interact with the public.
What continues to disturb fans outside Japan is the age-old policy regarding taking pictures. Apparently, foreign news reporters and photojournalist are not so aware of that policy. Frankly, is there any logic to this? I mean, why would an agency continue to exert photo op regulations when they're in show business?
On a separate topic, fandom outside Japan has resorted to using VPN to cast vote on their favorite Korean acts. I mean, what does it take to prove how much you adore your favorite celebrity? [Mommy, I need more money to finance my idol's survey poll!]
---
A recent survey poll we posted on Twitter appears to favor Mackenyu over other Japanese actors.
The Pacific Rim co-star is gaining quite a lot of acting grounds. He's to appear next in Episode 6 of Detective Yugami.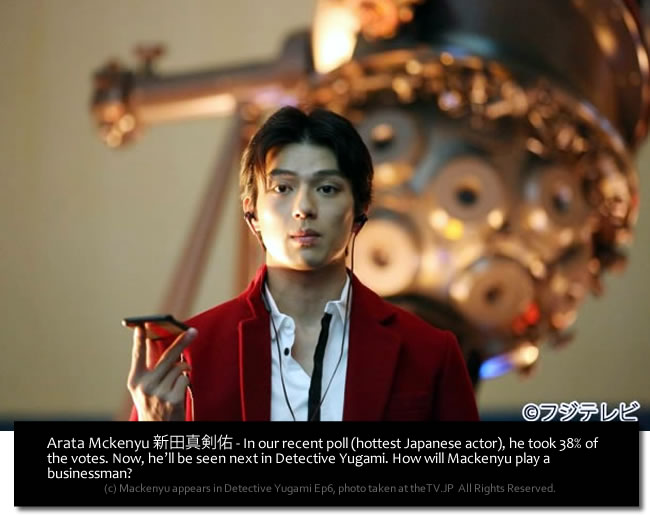 Garnering 38% of the Twitter votes, Arata Mackenyu appears to be the top choice as Japan's current 'hottest actor'. Click
here
.
---
Yukisada Isao's River's Edge gains traction as a short clip of the film is released.
Starring formidable actress Nikaido Fumi and Yoshizawa Ryo, the live-action movie is taken from the manga of Okazaki Kyoko about the friendship between Ichiro (Yoshizawa) and Haruna (Nikaido). Ichiro is gay and is often bullied at school. Haruna, who develops a strong bond with Ichiro, always offer her friendship during troubled times. [click to read our Special coverage of the film]
---
Diversifying his movie roles, Sakaguchi Kentaro romances Ayase Haruka in Tonight, at Romance Theater – 今夜、ロマンス劇場で.
He's also in the acclaimed Yukisada Isao film, Narratage, which made plenty of head turning at the recent Tokyo International Film festival.