In the initial episode of Ashita no Yakusoku, we see a young boy wearing a black hoodie takes spray paint and rope from a hardware store. This scene is interlaced with the figure of a young woman who observes on-going classes at Tsubakigaoka High School.
Later, we learned that the young boy Keigo (Endo Kenshin) is a student of the school, while the keen observer is the new guidance counselor, Aizawa Hinata (Inoue Mao). Keigo is skipping classes and it becomes a subject of discussion during a meeting. The counselor suggests a home visit and together with Keigo's teacher Mr. Kirishima (Oikawa Mitsuhiro), they met the boy and his mother, Makiko (Nakama Yukie).
Keigo was reported missing by Makiko through a phone call to the school admin a few days later. A search party is set up until Hinata finds the boy at his homeroom in school. That's the last day Keigo was alive. The following day, he was found dead – an apparent suicide – after paint spraying his entire room black. 
Keigo's classmates began to receive news of his suicide. Two girls confide about Keigo's bullying and Tadokoro (who shares a similar situation with Keigo) lost it and blames the class for his death. 
My impressions:
Ep1 has introduced the suicide scenario long before we know the characters and it sets the dark (almost oppressive) tone of the drama;
Ashita no Yakusoku is reported to be based on an original story, with Inoue Mao participating in writing the script. There are two distinct storylines: (1) The investigation into the death of the boy and (2) The unraveling of Hinata's personal struggles;
Reminiscent of Solomon's Perjury, the drama refers to bullying as a focal point. In Ep2, there is the hint of an abusive basketball coach who may have promoted the bullying of Keigo through his players. Two guys – Masaru (Watanabe Tsurugi) and Hiroto (Kaneko Daichi) may have initiated the abuse;
Unlike Solomon's Perjury, there is no student jury. Instead, what we may have is a mother 'out for blood'. In this case, she targets the school as the murderers of her son. A new personality – a news reporter Kojima Shuhei (Aoyagi Sho) – is hired by Mikako to spread rumors about the school's failure to protect Keigo;
Hinata is at the front and center of the brewing storm. Students who may be witnesses to Keigo's bullying have begun to confide in her. At the same time, her mother's apparent insecurity and displeasure at her attempt for independence bear weight into her peace of mind. It is not helping that her fiance Kazuhiko (Kudo Asuka) decided to visit their home and meets her mom. That triggers further resentment from the overprotective mother.
While an original story, I don't find anything surprisingly unique. A bullied boy kills himself, the mother declares war on the school and someone has to investigate what triggers the boy to take his life. What would be interesting is how the characters evolve as the drama progresses.
Director Hijikata Masato is a Fuji TV veteran. He had his directorial debut in 1997. His better-known TV dramas are Ghostwriter (Nakatani Miki) and The After-Dinner Mysteries (Sakurai Sho). Scriptwriter Furuya Kasunao is notoriously known for such epic fail as S: The Last Policeman and is part of the scriptwriting team of Ouroboros. A previous drama Kasuka na Kanojo (Katori Shingo-Anne) deals with a similar theme (teachers, one is a ghost, help students with their problems).
---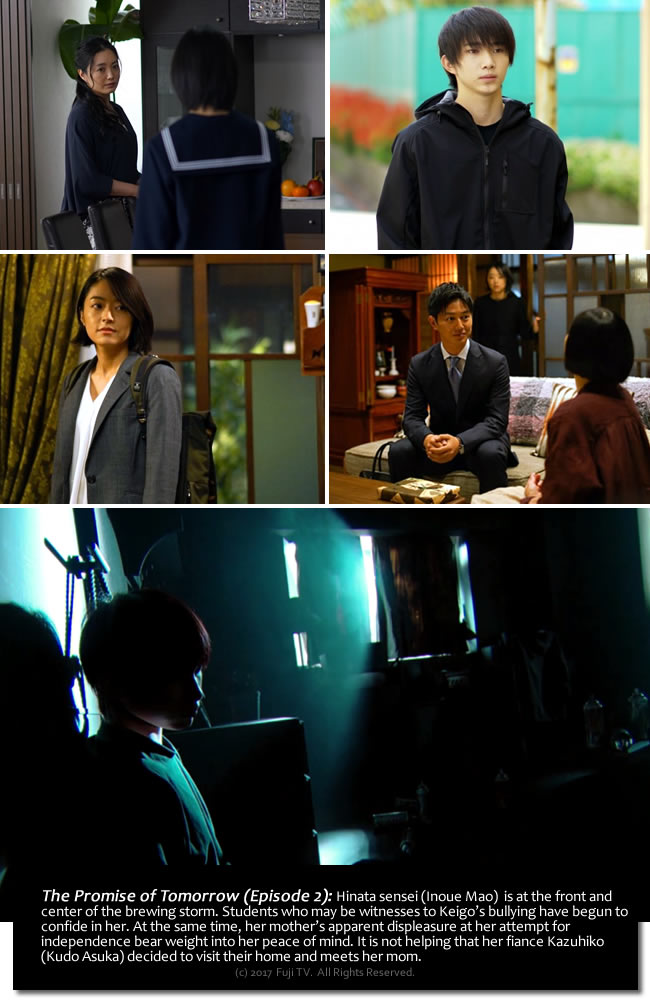 ---
Moving forward:
How will Inoue Mao portray a character hounded and harassed by a dictatorial mother? There are flashbacks showing how she was treated as a child. Will these psychological scars stop her from coming out of her shell and escape her mom's clutches, just as she advises her students to do?
It's a difficult job. You're not a teacher, not even a doctor. There are no scenes where you dramatically cure something. However, it's a character who heals people, those who carry unseen worries by themselves. It's really hard but it's better to concretize those inner conflicts. I came to know that words and actions we do unconsciously paint an impression. As a counselor, I want to heal people from their problems, but it's not about the healing process but to understand how to support them in living life while dealing with those problems. For me, I want to be constantly reminded of that. [source]
That's one thing I like – Hinata is not portrayed as everyone's savior, she is as self-conflicted as her students, and what I look forward to being what may appear to be nasty confrontations with her mom, veteran actress Tezuka Satomi and her showdown with Mikako.
Nakama Yukie has already made an impression on her creepy, domineering character. That scene where she looks over her son's shoulder as the boy texted his classmate is quite disturbing. 
The subs for Episode 3 is up for what appears to be another intense episode.
References:
 Drama insights and details are available from 
Jdrama
 by jadefrost, while the excellent subtitle is produced by Sam.Nozomi (considered the first project, but certainly worth the effort) @
D-addicts
.