Based on the novel "Gukoroku" by Nukui Tokuro, the live-action adaptation (also entitled like the novel) is a clash of two acting giants in Japanese cinema – Tsumabuki Satoshi and Mitsushima Hikari, playing siblings.
Acting extravaganza aside, it's also the debut full-length film of Ishikawa Kei, who took film directing in Poland under a scholarship from the Japanese government.
No wonder it was both supported by Warner Bros. Japan and Office Kitano and Gukoroku debuted at the 2016 Venice International Film Festival.
The film opens inside a public bus where Tanaka (Tsumabuki Satoshi) was forced to get out of his seat to accommodate an elderly by a fellow passenger. He fell down immediately after, looking ill with a pronounced limp as he left the bus. The passenger who made him leave his seat looked pained and guilty. However, it was only 'for show' as Tanaka walked normally.
The next scene shows Tanaka visiting his younger sister, Mitsuko (Mitsushima Hikari) who is jailed for child abuse. The encounter is devoid of 'genuine' emotions as if both have no familial attachments. There is something 'uncanny' about the meeting…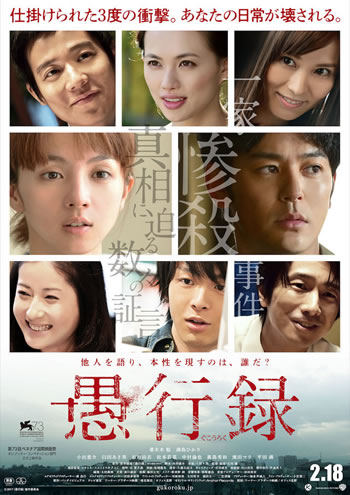 Tanaka works as an investigative journalist and requests his editor to pursue a year-old crime that involves the brutal murder of a family of three. The editor, who is privy to Tanaka's personal tragedy, gives his go-signal despite other pending, more controversial newsworthy articles. Tanaka then calls friends, office mates and acquaintances of both victims, the father (Koide Keisuke) and mother (Matsumoto Wakana) to trace back personal histories and clues.
What follows is an exposition of class struggles and social hierarchy inside Japan's middle class. The 'insiders' – rich kids with money and influence pluck unsuspecting 'candidates' to join their group – these 'outsiders' who have no money nor family connection are 'game' to be exploited.
In one of Tanaka's interviews, a female friend and the couple's schoolmate revealed an incident that forced Tanaka to take a surprisingly dangerous and violent action.
Tsumabuki Satoshi who distinguished himself as one of the youngest Best Actor winners at the Japan Academy has outdone himself. Some observers may remember him as the killer and fugitive in Villain or the aggressive gay 'top' in Ikari, which are both directed by Lee Sang-Il. As Tanaka his every facial expression and movement show mastery of his disturbed character. He's not a recovering druggie like Ryan Gosling in Half-Nelson or a stringer who records violent events like Jake Gyllenhaal in Nightcrawler, but like both actors, he commands the screen with malice and charm.
If you expect a full frontal acting showdown between Tsumabuki and Mitsushima Hikari, then you may be disappointed. Both lead stars are seldom seen together. Mitsushima's major exposure in the film (besides the initial encounter in jail) was during the second half. I often use the term #deadfisheyes to describe actors who can't act, but in this case, Mitsushima showcases blank stares to highlight the emptiness of her character – she is devoid of emotions – 'detached' may seem the perfect word, and it has multiple purposes.
By this, director Ishikawa divides Gukoroku between the siblings in such a way that the climax at the end – with the shocking reveal – remains with the audience long after the end credits.
---
[usrlist Story:4 "Acting:5" "Directing:4" "Technical merits:4″ avg="true"]