Studio Shochiku employs Murakami Shosuke to handle the live-action adaptation of Hazuki Matcha's manga Isshukan Friends. Starring Kawaguchi Haruna, Yamazaki Kento, Matsuo Takashi, and Uesugi Shuhei, the movie tells the story of two high school students – Kaori (Haruna) who refuses to accept the offer of friendship from Yuki (Yamazaki), since she suffers from temporary memory loss.
It's always about forgetting all her newfound friends after a week, and then her memory resets.
While there is no scientific definition that can explain what's happening to our heroine, there is a medical condition called transient global amnesia. However, it precludes the inability to recognize people, especially close friends. Following the 'logic' behind the author's assumption of Kaori's memory loss, we were told that Kaori's parents decided to transfer their daughter to another school, to prevent her from meeting her friends, which she can no longer remember.
Notwithstanding my failure to explain the plot related to memory loss, I can say that Isshukan Friends is all about young love (or puppy love if you care for a sweeter substitute title).
As it is often the case in Japanese romantic drama, opposites attract – Kaori is cold, distant, even antagonistic to offers of camaraderie and friendships, but at heart, she is a thoughtful girl who cares deeply for her friends. Yuki, on the other hand, is dorky but possesses a warm and open personality. It's love at first sight for Yuki and he'll do anything to gain Kaori's friendship no matter how many times she'll reject him.
Yuki proposes a solution to keep Kaori's memory intact even with the weekly reset – a diary which is filled up by both of them. While the girl was doubtful at the beginning, it turns out to be the perfect remedy she's looking for. Kaori and Yuki's worlds are now – for lack of a better word – in technicolor. But a transfer student (who has a personal history with Kaori) arrives to shake things up, preventing our almost young lovers from enjoying the rest of the school days together.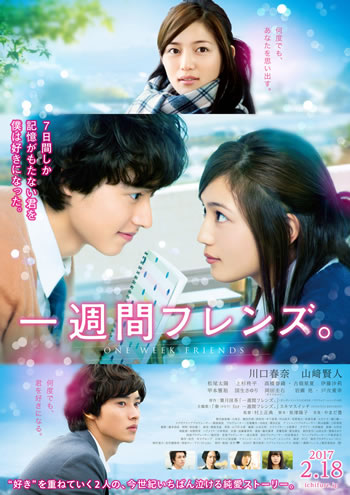 Isshukan Friends follows Orange, Your Lie in April and Wolf Girl and Black Prince, thus associating Yamazaki Kento with the romance genre, and the title of Rom-com prince (previously bestowed to such actors as Miura Haruma, Oguri Shun, and Matsumoto Jun). Aside from the accolades, Yamazaki is now regarded as being typecast, and complaints and negative reactions abound.
Looking beyond the surface, it takes sheer guts and determination for the young actor to portray these 'similar' characters, since there is nothing in common about them – Kakeru (Orange) is a grief-stricken young boy who blames himself for the death of his mother. He has a rather sullen personality who gets angry in an instant; Kosei (Your Lie in April) is a former piano prodigy who returns to form after meeting a pushy but charming violinist; Kyouya (Wolf Girl and Black Prince) is a pretty boy who takes pleasure in asserting his superiority to his girlfriend, but is actually an insecure boy who distrust women for their lack of genuine love, as his previous experiences seem to point out.
Yuki is no piano prodigy like Kosei or is as popular and notorious as Kyouya. He's not suicidal or moody like Kakeru. But he loves manga and he can draw! Still, he's just a normal guy who has a crush on a pretty girl and is determined to win her heart. To this end, Yamazaki has transformed himself as Yuki, something that he failed to accomplish as Kosei, no matter how his reportedly "extensive piano training" is publicized and used as a defense. For the first time, the actor portrays someone who is bested by many others – in terms of looks and popularity, yet as Yuki, he is as extraordinary as he is deemed regular. After Wolf Girl and Black Prince, this might be Yamazaki's next best acting performance in the said genre.
Kawaguchi who also stars in Say 'I Love You' delivers a performance worthy of her complicated character. Being aloof and withdrawn at the beginning of the film complements Yamazaki's open and jolly personality, thus creating 'friction' for the sake of romance. At the latter part, she must become a helpless, bullied girl while unknowingly giving pain to her friends who felt betrayed and abandoned. Perhaps it takes a Yamazaki Kento rather than a Fukushi Sota to bring out the best in Kawaguchi.
Director Murakami previously helmed another romantic movie Train Man: Densha Otoko, starring Yamada Takayuki and Nakatani Miki. But that was 11 years ago, and his recent works are mostly crime-thriller dramas. But, apparently, our director has not lost his touch.
If you're in the mood to watch something light and bubbly yet a bit cheesy too with a not so perfect boy and a girl with some serious memory issues, then Isshukan Friends is the perfect Friday night movie for you and your friends.
---
[usrlist Story:3.5 "Acting:4" "Directing:4" "Technical merits:4″ avg="true"]