Give or take, we have 8 of the hottest young actors around in this edition of our casting news and scoop! – [in no particular order] Suda Masaki, Satoh Takeru, Yamada Ryosuke, Taiga, Suga Kenta, Kamiki Ryunosuke, Yoshizawa Ryo, and Yamazaki Kento. I'd love to add Fukushi Sota, but while he's 'hot', I don't think his acting has improved at all, unlike Yamada who is doing a few acting milestones of his own.
But why special attention with these guys?
Aside from capturing the imagination of movie fans and critics, they have the charisma to be a level above their peers. Their roles in movies and doramas are not necessarily the main role, but they dive into these characters and made it their own. Most of them have some box office clout, but more importantly, a select list of their movies make sense. These movies have a purpose and people are moved. Their movies are meant to be cinematic experiences but are also fun. (Of course, not everyone likes serious, thought-provoking films, people like to laugh and feel romantic too!). These actors possess a bit of everything and they have exciting future projects people are looking forward to.
Let's start with Oryo [that's how his fans call Yoshizawa Ryo, right?] 
For 2018, he has five projects already – and they are:
Reon – as Ichijo [supporting role];
Evil and the Mask | Aku to Kamen no Ruru as Ryosuke [supporting role];
Marmalade Boy as Yuu, the main role;
Anoko no Toriko as Yori [main lead role in a triangle versus another upcoming star Sugino Yosuke];
River's Edge – as Ichiro [lead role, directed by Yukisada Isao, with Nikaido Fumi and Morikawa Aoi].
His movie reunion with Nikaido Fumi in River's Edge is particularly of special interest since they exhibited an excellent on-screen chemistry in Wolf Girl and Black Prince. In a recent drama, Cold Case, Yoshizawa was memorable as he portrays a young guy hopelessly in love with a member of a religious cult, who may have something to do with a murder. He also headlines the Tomodachi Gēmu franchise, which spawned 2 movies and a TV series.
A new TV series, Beloved Hong Kong is also generating plenty of interest as Yoshizawa plays a documentary film director.
---
With 20 full-length films from 2015 until this year, Suda Masaki is on everyone's lips (and radar). While there is only one movie for 2018 – My Little Monster (co-starring Tsuchiya Tao), his work for Wilderness – あゝ、荒野 is receiving plenty of critical buzzes. Is this the movie that will give Suda more acting awards? I'd like to think so.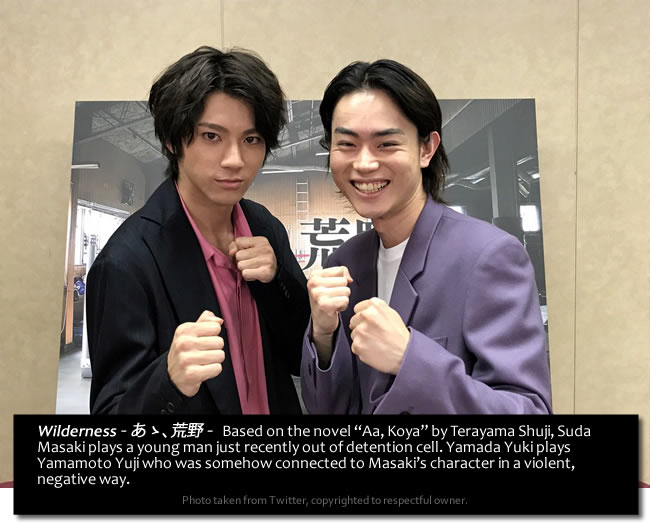 Suda boasts the most number of projects and many of them are leading roles – some very complex characters at that. It's also nice to note that he hosted a radio show interviewing actors, including friends Nomura Shuhei and Yamazaki Kento, among others. 
---
It was awe-inspiring and delightful to watch Suga Kenta in Love and Other Cults. He is a perfect match to Itoh Sairi's character (in her most complicated role to date). They play two misfits who can't seem to 'connect' to the outside world (and their families), and relied on each other for the most part – until the explicit expression of love.
The Anime Stage blog has this to say of Suga:
With an extensive background in TV drama and movie work, Suga Kenta has recently been taking to the stage more often, and stole the show as Hinata Shoyo in both the first and re-run productions of the Hyper Projection Engeki Haikyuu!! stage play. Adorably enough, he's concerned that even now that he's older, he still only portrays children. He has a tendency to take on the roles of younger characters, and with his youthful demeanor and baby face, you'd never even guess that he was born in 1994! [source]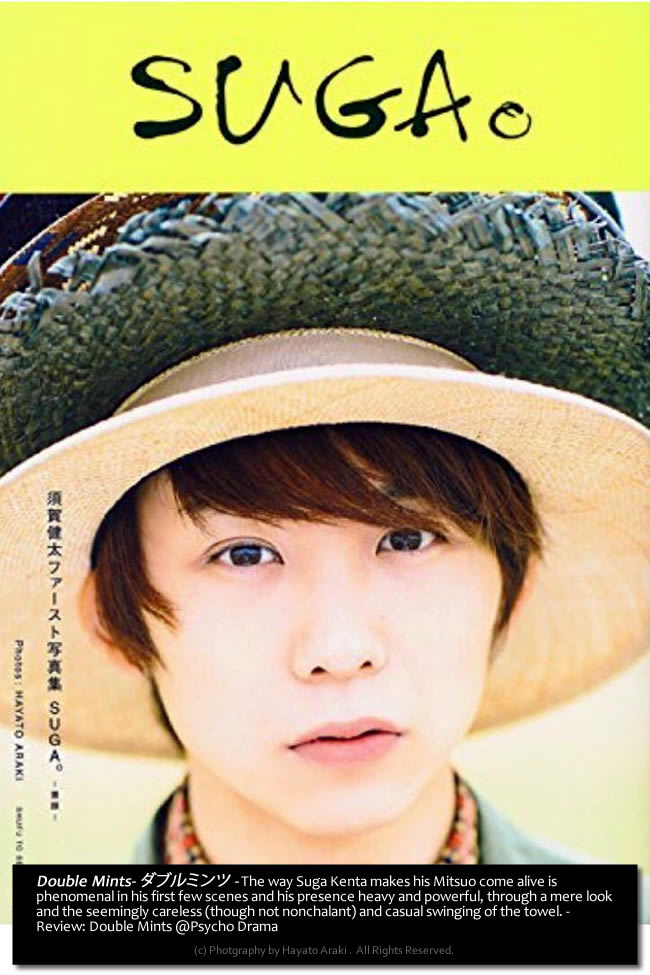 He did well in the BL-themed Double Mints [read our review here]. The 2018 project entitled Chotto Mate Yakyubu! is his most anticipated to date. 
---
With an upcoming road trip/coming of age film Poncho ni Yoake no Kaze Haramasete, Taiga is cast in the main role together with Yamamoto Yuma and Nakamura Aoi as high school mates and best buddies. He's also up against Odagiri Joe who plays his rival for the love and affection of Tsuchida (Usuda Asami) in Tominaga Masahori's Pumpkin and Mayonnaise.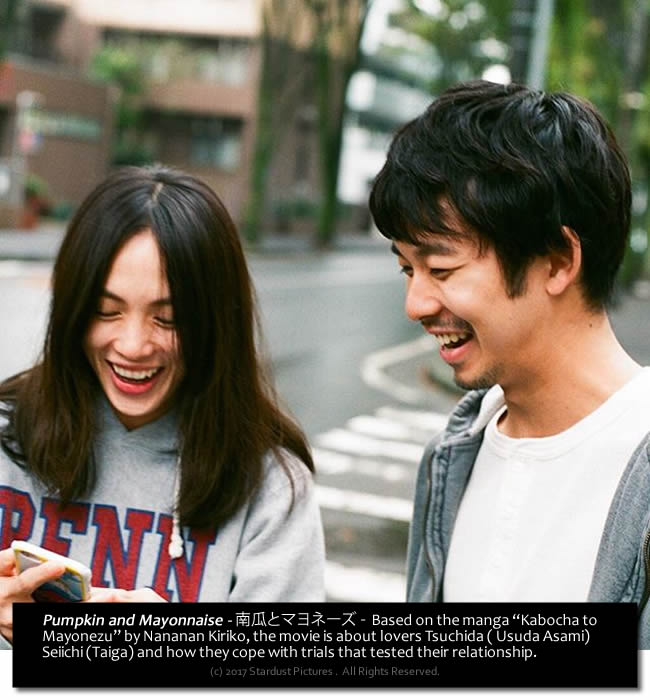 Taiga appears to relish doing mainstream and independent projects – Tokyo Sunrise, Watashi no Otoko, and Au revoir l' ete are some of his best works. He also headlines the made for TV movie Yutori Desu ga Nani ka, following the regular series which stars Yagira Yuya, Matsuzaka Tori, and Okada Masaki. Of course, he's one of the members of the school band in the youth-inspirational drama Aogeba Toutoshi. 
---
Idol fans outside Japan celebrate the emergence of Yamada Ryosuke as an actor aiming for a variety of acting competence – drama and action – and his management apparently knows what roles to give him. His two latest projects: The Miracles of the Namiya General Store and Fullmetal Alchemist represent the best of both worlds.
Previous acting attempts including The Files of Young Kindaichi Neo, and the two-part Assassination Classroom fail to impress, but the more recent Cain and Abel appeals to the viewers' emotions and succeeds on many levels. What drives Yamada fans to level up the buzz is the praise given to The Miracles of the Namiya General Store, where many believe it was Yamada who made it marketable and engrossing. It ranks #1 at the Japanese box office for the period covering September 2017.
Among the actors on the list (and in comparison to his senior Johnny actors), Yamada still has a long way to go, but his potential is slowly being realized. After all, his career as an entertainer is not limited to acting, and everyone agrees, his display of hard work and dedication are the key to unlock his full potential.
---
After what appears to be a setback for Yamazaki Kento in terms of box office appeal (Jojo's Bizarre Adventures reported failure at selling movie tickets), he immediately rebounds with the decent showing of his latest, Psychic Kusuo (formerly known as The Disastrous Life of Saiki K.).
But not all things depend on box office receipts as critics from well-known movie sites still has something good to say about Jojo's bizarre movie showing. Slash Films' Matt Donato says:
JoJo walks the catwalk with "Stand-sational" swagger and helps accentuate the J-rock awesomeness of Miike's most exciting face-offs. Actors manage their overly-caricatured high school arcs with either greaser coolness or sweaty-palmed anxiety, all while Miike does what Japanese cinema does best – gets really, unapologetically weird. And sporadically gruesome. Then sappy and sentimental, because that's how Japanese cinema rolls. [source]
News and gossip site Arama Japan, known for its members who relish dissing Yamazaki, even posted a review of 'Bizarre' and says:
Before I delve into the bad stuff, I have to point out one good thing. Kento Yamazaki and Kamiki Ryunosuke's performance was surprisingly stellar! It was more akin to voice acting than regular acting which definitely fit the nature of the movie. Sadly, their acting did not distract from the many flaws of "Diamond is Unbreakable". [read more]
Of course, a review is as good as the writer, so we certainly reserve our right to agree or disagree.
For the record, like his friend Suda Masaki, Yamaken has amassed a good amount of projects covering 2015-2017, numbering 10, mostly leading roles. He's also the lead in the sugary-sweet (plothole filled) Sukina Hito ga Iru Koto from Fuji TV. His latest drama (headlined by Yakusho Koji) is the sports-drama Rikuoh where he plays a 'confidence' challenged young man who continues to fail at job applications. 
On a 'lighter note', Hyouka LA where he plays Oreki Hotaro is slated for a November 3rd release. Let's see how it performs in the box office!
---
Described by the Japanese media as an acting prodigy, Kamiki Ryunosuke continues to set a 'trend' of sorts by mixing his projects – multi-faceted performances in the movies (March Comes in Like a Lion) and fun-filled TV roles (Detective Yugami). Of course, he can do serious TV roles and light comedy movies as he pleases – Samurai Sensei, Gakko no Kaidan, The Sun, and Too Young to Die! come to mind.
The fact that he also stars in the biggest anime of all time – Kimi no na Wa (Your Name) – says a lot about why Kamiki is a giant among his peers. [Read the latest development related to the anime here]
Among all of his projects, the two-part March Comes in Like a Lion can be considered a major step towards acting maturity:
In an ensemble cast that includes some of Japan's celebrated players including Kase Ryo, Sasaki Kuranosuke, Ito Hideaki, Kurashina Kana, Maeda Gin, and the completely unrecognizable Sometani Shota, the 24-year old Ryunosuke stands taller with an inspired, multi-level performance – mixing a personal state of loneliness with an undisguised fervor for competition in a sport that is truly and uniquely Japanese. [read full review]
 Expect a very high ranking for the actor in PD's 2017 edition of the hottest actors list.
---
The senior among the actors, Satoh Takeru continues to evolve as one of Japan's most reliable actors, with a commanding box office draw. Unlike his agency mate and good friend Miura Haruma, who continues to struggle with his acting, Satoh has reached 'critical' status in developing a style of his own. His movie Somebody (Nanimono) is an apparent departure from action-packed films and was set to present a serious side to the actor. While his co-stars, particularly Kasumi Arimura did not perform well to the task, Satoh offers a nuanced performance that is both understated and driven.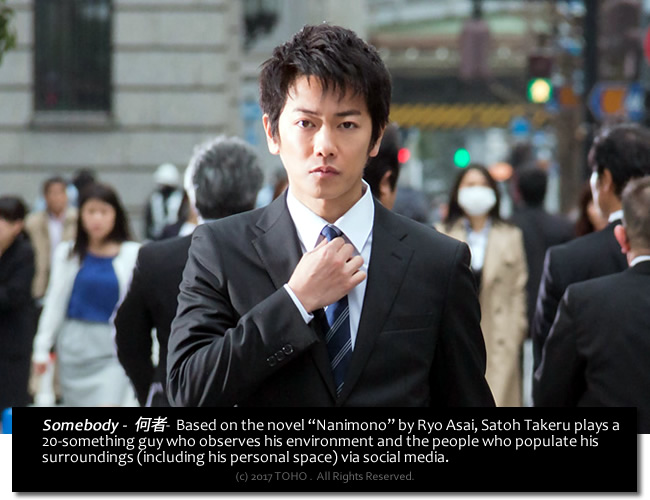 Yamashita Nobuhiro's Hard Core and Sato Shinsuke's Inuyashiki are next on Satoh's future offerings! Based on the manga series "Hado Koa Heisei Jigoku Burazazu" by Imashiro Takashi, Hard Core is a reunion between Yamada Takayuki (who also produces the film) and Satoh. They play brothers who discovered a tumbledown robot that can still perform many tasks. 
Lastly, after all, has been said and done, it's still Ajin: Demi-Human that will dictate how things will be for Satoh's future projects, and things are – indeed – looking very well. 
 We'll feature the ladies in our next post! Please stay tuned!