According to NoBully.Org, 30% of students around the world are bullied each year. In other words, that's a third of the student population. In Japan, the figure is much higher and The Japan Times confirmed it:
The survey of all 38,846 schools across Japan, including elementary, junior high, high school and special needs schools, 22,272, or 57.3 percent, said they found bullying cases. [source]
I know I started my introduction quite strong, but then again, Inoue Mao's latest drama has also come out intense with regards to bullying. But what makes Ashita no Yakusoku even more engaging as a school-mystery-drama is that it tackles another issue – the cases of the overprotective parents (particularly the Mom). Mixing these themes can be a potent combination and to cast Inoue against another Japanese actress who has reached an 'iconic' status through the years – Nakama Yukie is (close to) a stroke of genius.
Inoue is Aizawa Hinata, a particularly observant and matter-of-fact guidance counselor at Tsubakigaoka High School. She's a recent recruit but her open personality somehow compensates for her late entrance. Students tend to confide in her. Her 'counseling' approach is to encourage students to talk freely and then provide them with 'options' – courses of action they can take to seek remedy. 
A student, Yoshioka Keigo, appears to have issues. Aizawa becomes involved and this led to a home visit where she and her colleague Kirishima Naoki (Oikawa Mitsuhiro) talk with Keigo's mom, Yoshioka Makiko (Nakama Yukie).
The visit had a profound impact on both the mother and her son, leading finally to Keigo's suicide.
A student who confesses love to his guidance counselor (Inoue Mao as Aizawa Hinata) dies mysteriously. The counselor, who has personal issues of her own, decides to investigate but has to endure the dead student's mother (Nakama Yukie) who blames her. Aizawa is a new recruit at Tsubakigaoka High School but has since been popular with students for her open personality and her efforts to listen to them. This renders her a target from jealous senior colleagues making her life even more challenging. She has a self-righteous mother who never ceases to control her.
Ashita no Yakusoku is the latest attempt by Fuji TV to focus on Japan's increasingly disturbing bullying problem, and the issue of overprotective parents and its effects on the children's persona.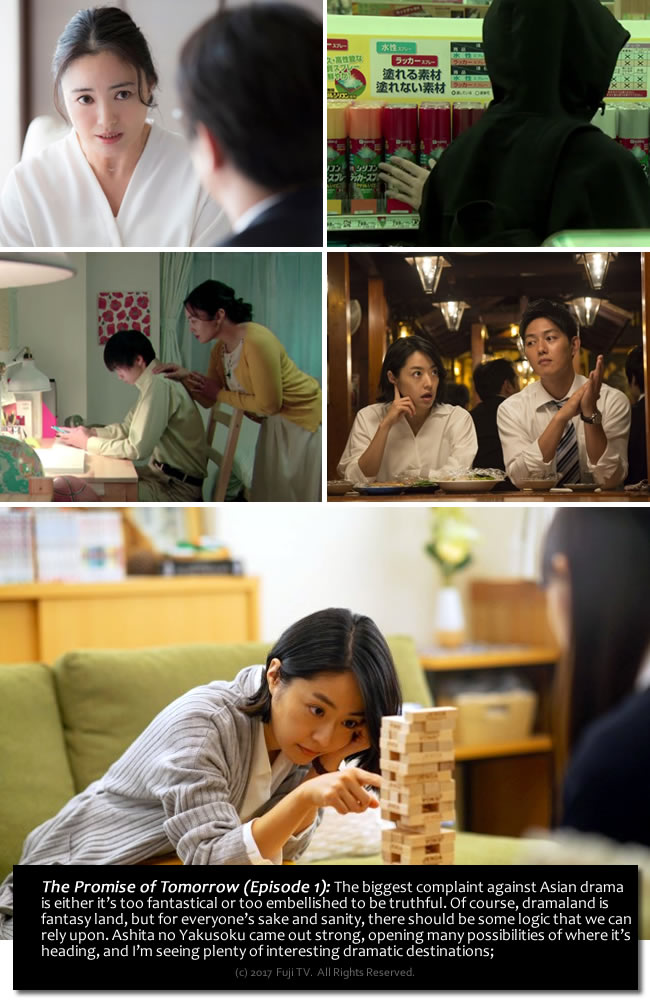 ---
A veteran TV drama director, Hijikata Misato is the same guy who directed Ghostwriter (Nakatani Miki) and The After-Dinner Mysteries (Sakurai Sho-Kitagawa Keiko). He can resort to over-the-top portrayals by encouraging his actors or he can go the other, less local friendly approach and tell them to go natural and authentic. For Episode 1 alone, it would be difficult to make a conclusion, but seeing Nakama Yukie in total control of her character is a good thing. [I'll expound on that later on]
Scriptwriter Furuya Kazunao is more of a 'miss'-lister than a hitmaker for me. I question what happened in Ouruboros (among many things) and put the blame on him. The success of this drama – to a large extent – rests on his shoulders. There are scenes that render audience to do the scratch-the-head-and-roll-the-eyes mode. For Episode 1, I still reserve my judgment, but I like how the cozy side of things is suddenly interrupted by emotionally-charged, ugly confrontations. After all, an excellent drama is supposed to make people uncomfortable and force them to think, maybe even take sides for some circumstances. 
---
So, let's have some first impressions, shall we?
The biggest complaint against Asian drama is either it's too fantastical or too embellished to be truthful. Of course, dramaland is fantasy land, but for everyone's sake and sanity, there should be some logic that we can rely upon. Ashita no Yakusoku came out strong, opening many possibilities of where it's heading, and I'm seeing plenty of interesting dramatic destinations;
One of the best acting features of Inoue Mao is her ability to convey emotions by differing facial expressions, and by the tone of her voice. Her previously 'kawaii' mode of yesteryears has turned into something serious – an excellent way to transform her persona as 'ordinary' yet ready to become 'extraordinary' as the scene requires. Episode 1 offers a glimpse into her childhood and what she has to go through. Being the daughter of an overprotective mother (Tezuka Satomi), who assumes no wrong, and is oh-so self-righteous! is an acting challenge in itself;
Apparently, I need to hone my doramawatch skills as I missed a few hits in my 
Top 10 most anticipated Japanese drama of Fall 2017
. I'll let the photos do the talkin'
But, let me summarize a bit for you: There are, at least, 25 Tv series available for our viewing pleasure, and the prevailing themes this season are school drama, detective/investigative, medical, and romance. Personal-biased stars Yamazaki Kento, Kamiki Ryunosuke, Furukawa Yuki, Yoshizawa Ryo, Mitsushima Hikari, Inoue Mao, and Ayase Haruka are heavily involved in these doramas. Veteran and award-winning actors Asano Tadanobu and Yakusho Koji also headline these series. Noted Johnny's are Sakurai Sho and Tamamori Yuta. 
Nakama Yukie, like Inoue, has grown (as an excellent actress) in our eyes through the years. Many who come to love Japanese drama will remember her in Gokusen – that charismatic, good-natured teacher born to a Yakuza family, yet able to identify herself as a lady of the masses, and the champion of angst-ridden, juvenile teenagers. A 360-degree turnaround for this drama is in effect as the overwhelmingly possessive and insecure Makiko;
Endo Kenshin, a relatively new actor, renders a performance with a sense of vulnerability and dread. It is as if he knows he'll be dying soon – it's a performance that is more powerful than that boy who jumped to his death in the 2-part Solomon's Perjury films. I hope to see more scenes involving Endo;
Asuka Kudo is a fine young actor, and he made quite an impression in The Pretend Girlfriend. If the scriptwriter will do his job correctly, then Kudo's character may be a 'clincher' to keep this drama interesting enough;
The personal dynamics of the school with insecure and jealous colleagues who may plot against Inoue's Hinata need to be tolerable, balanced by the presence of sympathetic characters. Otherwise, this is an avenue for the rise of over-the-top acting, especially from the veteran teachers (and their names escape me). I know it would be unrealistic not to cast teachers in a school drama, but more often than not, these supporting players are the culprit (partly, that is) in turning an excellent show into its boring and annoying version.
---
Right now, it would seem a futile attempt to do episodic reviews of two (or perhaps even 3) dramas. It takes plenty of effort to write a review, engage in intelligent (and otherwise fun) discussion with readers and also choose a decent looking screenshot gallery to recap. Not to mention, it takes a lot of time to spread the word.
It can be annoying for my readers to expect a future review when I render myself incapacitated to continue. But being an Inoue Mao biased person, I will go for it!
References: Drama insights and details are available from Jdrama by jadefrost, while the excellent subtitle is produced by Sam.Nozomi (considered the first project, but certainly worth the effort) @D-addicts.