Rikuoh – 陸王, based on Ikeido Jun's novel of the same title, is at the forefront of a nationwide effort to promote sports. The 2020 Olympics also known as Tokyo 2020 is 33 months away, yet Japan is already anticipating the huge event by introducing sports-themed movies and drama.
Furuzawa Katsuo, known for his grandiose epic-scale drama such as Hanzawa Naoki, Roosevelt Game, and Shitamachi Rocket, is a TBS regular and is an obvious choice to direct Rikuoh. Is the storyline up to the director's liking? I would think so…
Koichi Miyazawa works very hard at his job as the fourth president of an old prestigious manufacturer of tabi, Japanese split-toed socks, but as demand for tabi declines over the years, he spends his days worried about the company's finances. After a discussion with a banker, he starts to think about starting a new business venture. This isn't because he wants to make his company larger than it is, but rather because he's worried that the fate of the company itself may be at stake. Using the craft and skills that have been honed creating tabi, he endeavors to develop running shoes that approach the sensation of running barefoot. But that's a task more easily said than done for a small local company with just over 20 employees. Will they be able to successfully make running shoes?! These workers, who have worked diligently producing just a single product, use their strength of companionship to propel themselves to take on this once in a lifetime challenge! [source]
Think of a senior, veteran actor who has won numerous awards and can still capture the imagination of many Japanese? Watanabe Ken is probably one name, perhaps Asano Tadanobu? How about Abe Hiroshi? But then again, who was that Japanese actor who killed his wife and her lover in Imamura Shohei's The Eel? [The film won the Palme d'Or at the 1997 Cannes Film Festival and Kinema Junpo's Award for Best Film in 1998.] 
And who is that same guy who plays the lead in Suo Mayasuki's Shall We Dance? (yup! the same film adapted in Hollywood starring Richard Gere). Lastly, who is that same guy who plays the moody and violent ex-detective in The World of Kanako?
Yakusho Koji, of course! While Sakai Masato previously held the title as the larger-than-life lead of Furuzawa's Hanzawa Naoki, the grand-scale demand of Rikuoh's titular character is beyond Sakai's reach.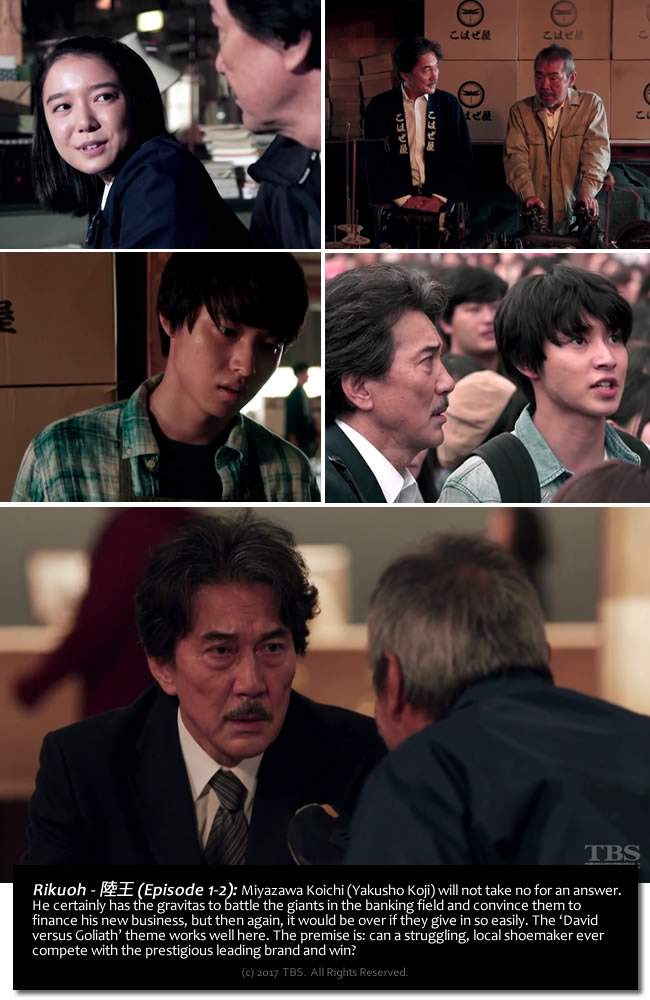 Who should play his son then? Someone who has potential Tv ratings draws and at the same time with enough oomph to do dramatic and comedic roles, not necessarily 'critically acclaimed', yet charismatic? Yamazaki Kento. No argument on that.
Now, think of another young actor (not necessarily belonging to Kento's batch) who has the physique, the stature, and most probably the stamina to play a marathon runner? Takeuchi Ryoma. No argument on that either.
And so you got three of the main characters cast. Since there are also casting requirements for Yakusho's family and production crew and a few villains here and there, we have Kamishiraishi Mone (Koichi's daughter), Terao Akira (yes, our music teacher from Aogeba Toutoshi), Kazama Shunsuke (a sympathetic junior account executive), and Uchimura Haruka (loyal crew and assistant), among others to join an extensive cast. 
The Japanese athletic shoemakers are well respected for its use of modern technology, as well as for their aesthetic and functional designs. While the running shoes developed by Rikuoh has a fictional brand name of its own, let's have a look at some famous brands:
Asics
is 'anima sana in corpore sano', which means, a healthy soul in a healthy body. Their running shoes are built with the GEL technology. |
Mizuno
began in 1906 in Osaka and has since developed such technology as the parallel and infinity wave. Infinity is boasted to absorbing and dispersing the impact at foot strike.
That's my take on the cast and first impressions?
Rikuoh is divided into two parts – (1) the shoemaking business venture of Miyazawa and (2) the struggles of a young marathon runner aiming for sports glory. The first part can get boring, even with acclaimed actors abound. What made this drama work is the introduction of the characters' personal histories. Terao Akira, who inspired us in Aogeba Toutoshi plays the guy who will develop the running shoe technology. The second part may be a bit tricky, but this is – in essence – the sports anthology to excite the audience about the upcoming Olympics;
Miyazawa Koichi (Yakusho Koji) will not take no for an answer. He certainly has the gravitas to battle the giants in the banking field and convince them to finance his new business, but then again, it would be over if they give in so easily. The 'David versus Goliath' theme works well here. The premise is: can a struggling, local shoemaker ever compete with the prestigious leading brand and win? Yakusho never resorted to over-the-top acting (almost there) and had the guts to refrain himself. We can't help but cheer for the man;
Yamazaki Kento's Daichi appears 'jaded' to the ideology of his father and joining the family business is not part of his career goals. However, he is constantly rejected during job interviews, what is there to do? The confrontation scene (with Yakusho) in Episode 2 was over in a few minutes, but it gave us the idea of the extent of the father-son divide. Daichi's analytical mind is yet to be realized and put to use, but he certainly inherited a few traits from Koichi. The development of Yamazaki's character is not so obvious as yet;
Takeuchi Ryoma's Hiroto is a driven and ambitious long-distance runner. In Episode 1, he almost won the marathon but suffered a setback. Post-tourney analysis points to a 'faulty' technique that may be caused by a peculiar way of running or perhaps it's just a simple case of wearing the wrong shoes? How well he runs (and reach the finish line first) wearing Miyazawa's new shoes will be anticipated in future episodes;
Supporting players who shine in their roles (in my opinion) are Hiroto's' rival Naoyuki (Sano Gaku), he gets a prized sponsorship deal with Atlantis, the famous shoe brand and Sakamoto Taro (Shunsuke Kazama), the junior bank account officer who remains loyal to Koichi;
For dramatic effect, bankers (and branded shoemakers) are made to be sneaky, conniving individuals, but aren't they in real life? 
Following the Henry Ford ideal (Ford Motors), it took him years (and plenty of lawsuits and personal setbacks) to come up with the Model T, and in similar case, a running shoe's design has to be perfected,  and that will take plenty of sweat and tears, thus a 10-episode drama will do;
The directing-scriptwriting team of Fukuzawa and Yatsu Hiroyuki has proven through the years their collective effort via high ratings. Rikuoh, currently hovering at 14-15% audience share is not doing badly after all. But then again, ratings mean nothing unless you're moved, identifies with a particular character or felt 'emotional' overall.