Yamada Yuki and Saitoh Azuka will play Kosuke and Mai in the Japanese version of Taiwanese hit You Are the Apple of my Eye, entitled Ano Koro, Kimi wo Oikaketa – あの頃、君を追いかけた. Based on the novel "Na Xie Nian, Wo Men Yi Qi Zhui De Nu Hai" by Giddens Ko, the original Taiwanese movie tells the tale of a group of high school students circa 1994 Changhua County, the smallest but most populated county in Taiwan. 
Giddens Ko's semi-autobiographical novel is literally translated as "Those Years, The Girl We Went After Together", and stars Ko Chen-tung as Ko Ching-teng, a prankster and a naughty student and Michelle Chen as Shen Chia-yi, an honor student who is very popular with the boys in her class. While everyone seems to be infatuated with Chia-yi, Ching-teng is hardly aware of her presence. However, when he was caught masturbating in class, Chia-yi was tasked to look after him.  
Out of her duty, Chia-yi began to 'bother' Ching-teng with his school assignments. The girl used to be annoyed by this naughty boy but an incident changed all that. In one of her few 'lapses of memory', she left her textbook at home and was about to be punished. Without any second thoughts, Ching-ten rescued her by slipping his own textbook in her lap and endures the penalty, which is – in those times – involves a long verbal lecture and physical exertion. Such 'heroic' act endears Ching-ten to the studious girl and they become close. 
At this time, the phrase 'Less than lovers, more than friends' seems to be the appropriate description of their relationship. Ching-ten, of course, has many friends and most of them are waiting for him to make a mistake, and they'd gladly propose to Chia-yi. But Ching-ten is clearly ahead of the pack. Aside from being handsome and fearless, he's smart too! In one of the film's most amusing scenes, he posed a challenge to the girl – whoever gets the higher grades will have the option of master and slave. 
Having lost the contest, he dons military haircut and endures the taunts and insults. To his pleasant surprise, Chia-yi puts on a 'ponytail' – which is what he wishes had he won the bet. Why would she do that, he asked?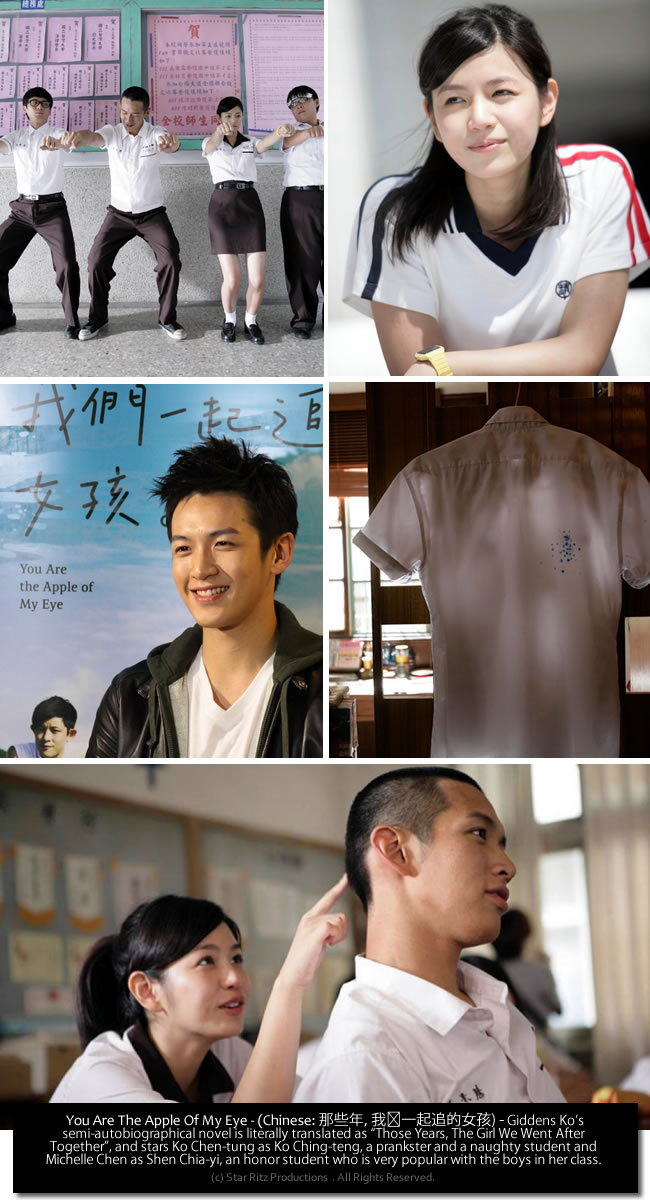 Fast forward, after graduation, they all took the College entrance exams, with Chia-yi receiving a mere passing grade as she was sick during the test. Thus, they start a 'long distance'relationship'. At this time, they are not yet lovers…
Maggie Lee at the Hollywood Reporter said:
An alternative to Asian teen movies that tend to be syrupy, demure romances targeting girls, Apple injects a fresh, tart edge to the genre with a constantly self-mocking boys' angle. The comedy is crowd-pleasingly raucous, showing how the lads' camaraderie is forged as much by synchronized group masturbation as desiring the same girl. If it is more graphic and uninhibited about phallus-fixation than most Chinese films in this genre, at least it eschews the smutty objectification and belittling of women that rules the Superbad school of American teen comedy. It even attempts something philosophical by reflecting on how desire is more pleasurable than its consummation. [read more]
Without going any further, I would assume that our readers already got the hint that there are complications ahead, and that – perhaps – they are not meant for each other all along. But then again, this movie is such a pleasure to watch, I invite our readers to be the judge themselves! 
---
Chinese news site MTime posted an article about the remake and provided below comparison of the actors:
---
Acting-wise, both leads were exceptional. Male lead Ko Cheng-tung won multiple acting awards as Best New Actor, while Michelle Chen was nominated as Best Actress. 
Yamada Yuki, at this point, appears to be a logical choice. He's a consistent performer – as second lead, that is. His ability to dive into his characters is well-known. Let's have a look at some of his more noted roles:
As Joe Gibken in the Kamen Rider series;
As Ikezawa Kinnosuke in the popular drama series Itazura na Kiss;
As Ando Tadaomy in the Stray Dogz movie franchise;
As Hano Kyohei in drama Sannin no Papa.
These are some of his best work to date. One issue I have in mind – Is he willing to do all those bare butt scenes done in the original film? That's something we have to wait and see.
I have no idea about the acting capacity of Michelle Chen's alter-ego. She's coming from an entertainment group, whatever acting experience she has remains to be seen. She had a small part in the 2007 movie Sakuran, according to her Asian Wiki page. 
Screenwriter turned director Hasegawa Yasuo will direct the film from the script of previous collaborator Iida Kenzaburo. 
Reports coming out of Taiwan during the original 2011 release of the film is filled with censorship and other problems with the Chinese government, especially related to 'Taiwanese promotions' which, I gather, is frowned upon by mainland China for political reasons.