Tomorrow's Promise starring Inoue Mao and Nakama Yukie promises to be an exciting, gripping mystery drama with acting showdowns featuring the two actresses. The premise behind the show is geared towards conflict between the characters. A high school student Yoshioka Keigo (Endo Kenshin) made a confession about his feelings for the school's guidance counselor, played by Inoue Mao. He suddenly dies under mysterious circumstances right after.
Apparently, the boy is bullied at school and has to endure constant interference from his own mother (Nakama Yukie). He is also being referred to as a 'delinquent' and associates with bad company.
Such a combination is potent for a regrettable (and tragic) outcome, so it's not so hard to understand why the boy dies. But here's the rub: Aizawa Hinata (Inoue) has personal issues of her own. She was subjected to the same type of meddling by her own mother, thus she can easily identify with the boy.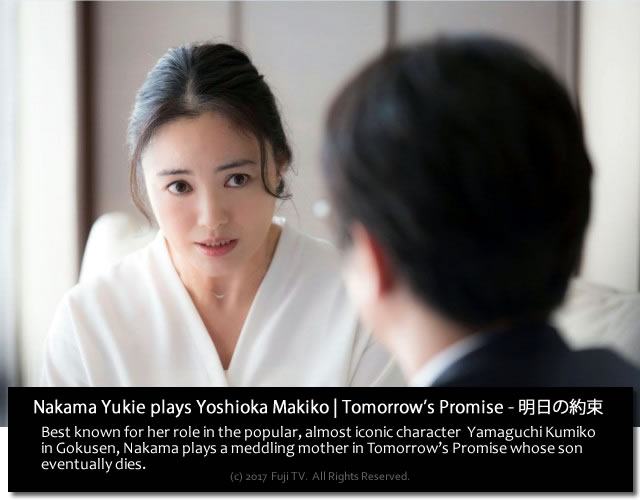 As for the dead student's parents? What do some parents resort to when looking for a way out? Blame someone and that's what happens here.
Inoue Mao, who made The Snow White Murder Case, such an appealing movie to watch returns to – perhaps a similar role – in Tomorrow's Promise. The fact that Nakama Yukie (remember Gokusen?) is cast alongside her is enough reason to anticipate this drama. [read more]
Tomorrow's Promise is ranked #4 at our Top 10 Most Anticipated Japanese Drama (Fall 2017).