March Comes In Like A Lion is about the trials and tribulations of a young man of seventeen, Kiriyama Rei, played by Kamiki Ryunosuke.
Based on the manga series "San gatsu no Lion" by Umino Chica, Rei copes with pangs of loneliness amidst a sea of humans in Tokyo while sharpening his skills to level up his rank as one of Japan's up and coming shogi masters.
Orphaned at a young age, he was taken in by Koda Masachika (Toyokawa Etsushi), a friend of Rei's father and rival in shogi. He became his apprentice while earning the resentment and jealousy of Koda's daughter, Kyoko (Arimura Kasumi) and son. He left after completing middle school to live in a messy one-room apartment in Rokugatsu-chō (June town).
After going out with friends, Rei fell drunk on the streets, wallowing in self-pity. A chance encounter with Kawamoto Akari (Kurashina Kana) – who saw him in such pitiful state – pave the way to a budding friendly relationship that expanded to Akari's sisters, Hinata (Kiyohara Kaya) and Momo (Nitsu Chise).
The Kawamoto's 'intrusion' into his life serves as Rei's first outside people in the sport. Endearing himself to them, he is gifted with generous servings of delicious dishes, a welcome respite from nights of ramen noodles. His days in the Kawamoto's ancestral house in neighboring Sangatsu-chō (March town) give off positive vibes, balancing the chaotic and competitive nature of shogi tournaments, which drains him both emotionally and physically.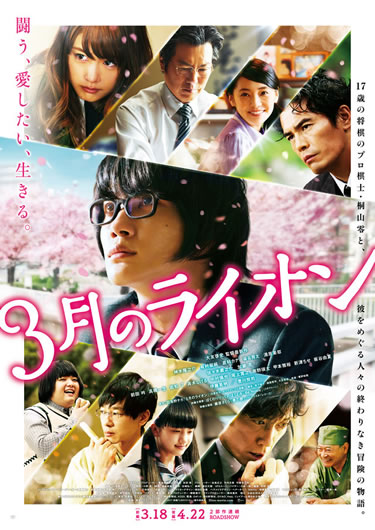 Most shogi players like and respect Rei, and he returns gestures of friendship, except for Goto Masamune (Ito Hideaki) who dates his foster sister Kyoko. Kyoko stays in touch with Rei by inviting herself to his apartment, taunting him of upcoming failure right before a shogi tournament. This 'love-hate' relationship with Kyoko somehow confuses Rei and the Kawamoto sisters (who immediately felt dreadful of her presence) remain steadfast in their loyalty to the gentle young man.
While still trying to find his place in society and in one of Japan's traditional sport, Kiriyama Rei enjoys his close encounters with them all – reserving his judgment, as he takes in all the positives, as well as, the negatives.
Japanese filmmaker and scriptwriter Ohtomo Keishi, famed for the Rurouni Kenshin trilogy that (literally) launched the acting career of Satoh Takeru, remains faithful to Umino Chica's manga – paying ode to the author's deliberate sense of longing by using dark hues of colors, the change of the seasons, and signature landmarks described and drawn so vividly and lovingly in the manga.
March is both a coming-of-age drama and a sports thriller. While these are two distinct genres, Ohtomo successfully connected them using music and sound that changes from sentimental to electrifying while jumping from one scene to the next.
In an ensemble cast that includes some of Japan's celebrated players including Kase Ryo, Sasaki Kuranosuke, Ito Hideaki, Kurashina Kana, Maeda Gin, and the completely unrecognizable Sometani Shota, the 24-year old Ryunosuke stands taller with an inspired, multi-level performance – mixing a personal state of loneliness with an undisguised fervor for competition in a sport that is truly and uniquely Japanese.
San gatsu no Lion Zenpen (this movie) was released in March of this year, while the final installment, San gatsu no Lion Kohen, was shown a month after. The other movie's plot centers on the Kawamoto sisters and their interaction with Rei, and what appears to be the return of their father who abandoned them for another woman.
While I look forward to the final movie, I find San gatsu no Lion Zenpen completely capable of being a stand-alone film – one that is gentle and pure, and also dark and dreadful and that makes it all the more perfect.
---
[usrlist Story:4.5 "Acting:4.8" "Directing:5" "Technical merits:4″ avg="true"]