Fullmetal Alchemist, the most popular anime of all time now turned into live-action, is well underway. Just released in Japan December 1st, the Yamada Ryosuke starrer has received plenty of critical reviews from prominent English-language sites.
Yamada Ryosuke himself was reported to have said that maybe a live-action movie is a 'mistake'.
Meeting with the crew, he made an about-face after learning more of the movie details. Here's what the critics are saying:
'The Closest thing to a Japanese Harry Potter' says Deborah Young @The Hollywood Reporter:
Ed, played by a bleached blond Ryosuke Yamada as comically over-the-top and recalling a younger Toma Ikuta from The Mole films, especially when he gets mad and his voice breaks into a roar. [source]
Richard Kuipers @Variety says it's a hit and miss affair:
The first live-action adaptation of the phenomenally popular Japanese manga created by female author Hiromu Arakawa proves to be a mixed bag of eye-catching visuals and uneven storytelling — rushed and choppy at times, and draggy and repetitive at others. Set in a fascinating early 20th-century alternate world in which two young brothers, both experts in the magical art of transmutation, attempt to rectify a calamitous experiment they carried out as children, "Fullmetal Alchemist" will initially attract huge local audiences when released on Dec. 1 but is unlikely to win viewers not already familiar with the source material or its numerous TV, video game and animated feature incarnations. U.S. release details are pending. [source]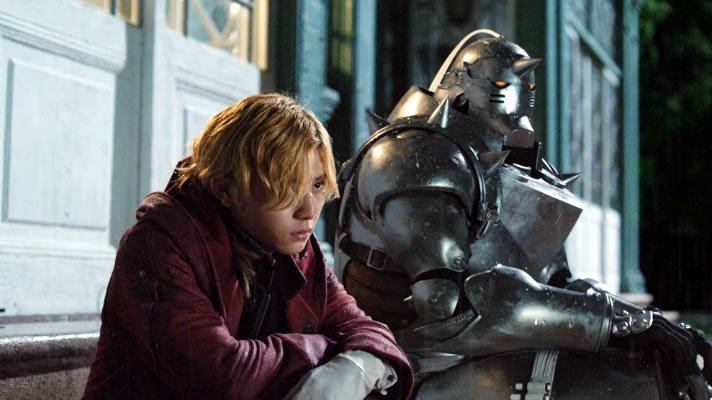 Sarah Ward @Variety says: Fumihiko Sori turns the popular Japanese manga into an ambitious live-action adventure –
With the source material set in a realm where transmuting matter is commonplace, experienced director Fumihiko Sori (manga-to-movie Tomorrow's Joe and game-to-anime Dragon Age: Dawn Of The Seeker) tries to turn Fullmetal Alchemist's sweeping tale of life, love, loss, sacrifice and science into an engaging blend of sci-fi, fantasy and adventure. [source]
Cecilia D'Anastasio @Kotaku says it would 'be absurd to expect any director to gracefully condense 60-ish episodes of "everything" anime into a feature film acted by humans':
Ryôsuke Yamada, who plays Edward, is perfect parts hot-headed, emotional and self-depreciating. Yamada's acting does well smoothing out the contractions in Edward's character, in part because he leans into Edward's intensity. [source]
The major contentions seem to be:
There are so many materials (storyline, characters, nemesis) that it's hard to condense the whole saga into a 133-minute live-action movie;
The CGI effects are well-received, credit to dir. Sori Fumihiko, paving the way for sequel(s);
Yamada Ryosuke as Edward Elric offers a spirited portrayal of the 'fireball of anger' Ed yet failed to connect to the audience (many of the critics in this case);
Too many supporting characters, among which some shine (Fujioka Dean, Sota Ryuta) while others failed to make an impact;
A common agreement is that it's one of the better live-action to come out of Japan, way better than Attack on Titan and Tokyo Ghoul.